You can limit who replies to your tweets from now on. Now you can have a little more control over who shows up in your mentions.
Twitter has been testing this feature for months, and it today finally announced that its new tweet reply control options are being made available to all users on iOS, Android, and twitter.com. Keep up with me to get to know how this feature works and how to use it to manage your tweet replies for good.
Here is how the feature works:
Starting today, A small globe icon will start to appear at the bottom of your tweet, and if you do nothing, everyone will still be able to reply — this is the default option. Or, you can tap it and limit replies just to those who follow you; or just to those who you tag in the tweet itself. As Twitter has clarified more about the new feature, it works as explained below:
Before you Tweet, choose who can reply with three options:
1) Everyone (standard Twitter, and the default setting).
2) Only people you follow.
3) Only people you mention.
Tweets with the latter two settings will be labeled, and the reply icon will be grayed out for people who can't reply. People who can't reply will still be able to view, Retweet, Retweet with Comment, share, and like these Tweets."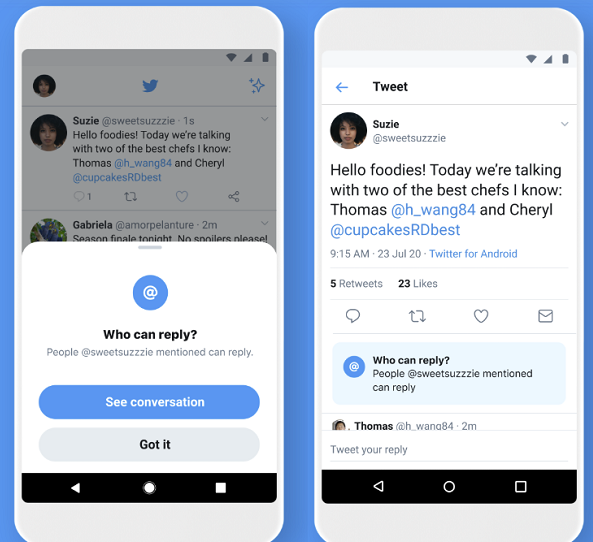 As it seems, the test has been very good, and users have shown that they liked the feature so much. Users in the test pool have said that they feel more comfortable tweeting, and more protected from spam and abuse, which has lead to them tweeting longer, more in-depth thoughts, particularly on sensitive subjects.
But there is another concern, which is that by limiting who can respond to tweets, politicians and brands will theoretically be able to silence opposing viewpoints, which could make their statements appear more accepted than they actually are.
Was this post helpful?
Let us know if you liked the post. That's the only way we can improve.