In this post, I'll let you know what the best iOS editing app is and why I believe it can beat Adobe Lightroom by all means. But before that, here's the story that got me to write this article.
I used to like my friends' photos on Instagram, thinking about why they look so cool. It was a terrible feeling of envy that made me post less often.
I knew it's about the filters and edit. But just how? Is someone helping them? Are they using a premium version of apps that I'm not aware of?
I even asked a couple of friends to recommend me online editing courses. But all I got was weird eye-rolls and people saying, "that's too much for an Instagram photo, dude."
However, I kept looking for a way to make my IG feed look better. And I finally came across a list of the best photo editing apps for iPhone!
Next thing I know, I am trying all of them (those with free trial of course) to see which one is going to save my butt. And I found it—Darkroom it is.
Why Do I Love Darkroom Over Adobe Lightroom?
If you didn't read the above story, let me catch you up. I searched for the best photo editor app on iOS, and I came across Darkroom. After using it for several weeks and comparing it to other well-known applications such as Lightroom, I can say that it's the best.
Here's why.
#1: It's Cheaper
I wasn't looking for a monthly or yearly subscription plan that charges me a couple of bucks. That's because I'm not a professional photographer.
All I wanted was an easy-to-use, sufficient, and cool app to make my images look awesome. So, when I heard about the life-time purchase, I was excited.
Don't get me wrong, it costs $49.99 on one-time buying and it's not cheap. But compared to an app like Lightroom which has no lifetime subscription, it's a great deal.
Fun-fact, $49.99 is what you pay for Lightroom's Yearly 100GB plan! So, I knew I'm getting a good deal with Darkroom.
However, Darkroom is quite cheaper in monthly plans as well. While adobe charges you at least $9.99, the prices for monthly subscriptions start at $3.99 on Darkroom. (That's a huge difference).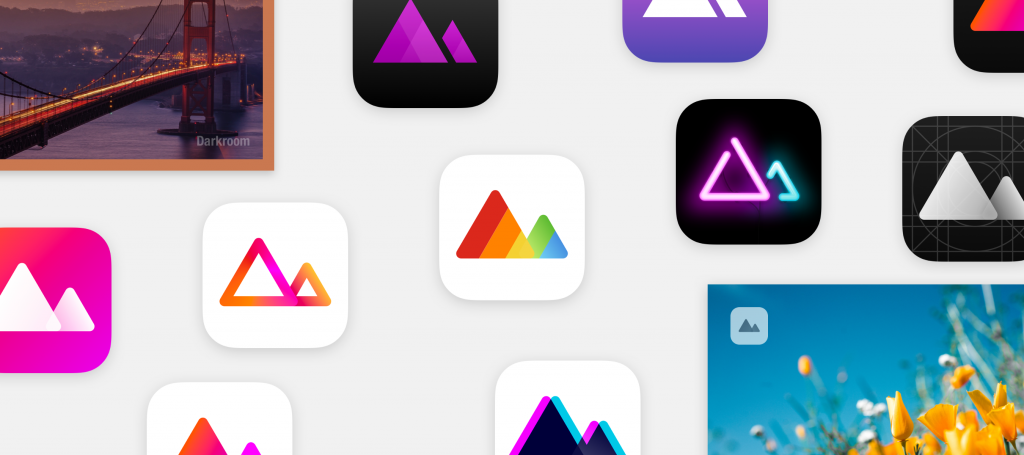 #2: It's Not Complicated
Let me be clear, the best iOS editing app must not be complicated to use. That's what I love the most about Darkroom's interface. It is clear, guided, and free of unnecessary options.
That's not what you usually get in Adobe products. The first time I used Lightroom, I felt like it's best to look for an online course on 'how to edit your photos' as soon as possible.
Since you can use Darkroom horizontally, the wider screen allows you to see all the options and try them out quickly. That's what I did for the first few days. Just changed stuff to figure out what it is and then undo the changes easily.
So, if you're not a pro editor, it's the best bet. Unlike Lightroom and other similar apps, you don't need to know the jargon or worry about the histogram. It's more like using IG's editing options but with a better interface and tons of extra features.
#3: You Can Do More Than Photo Editing
Okay, I was going to pay $50 for an application. So, I wanted it to be the best editing app on iOS, but I also wanted it to be more. (Sounds greedy, right?).
When I found out that you can edit videos with Darkroom as well as raw images, I said, "this is it." Who doesn't like the idea of buy-one-get-two? Not me.
If you're looking for the best iOS app to edit videos, Darkroom might be the one. Of course, don't expect it to be as good as Premiere Rush or inShot, because it's mainly designed for photo editing.
But it offers all the necessary tools one might need to create a cool Instagram video or make a slideshow of the September's trip to Ohio.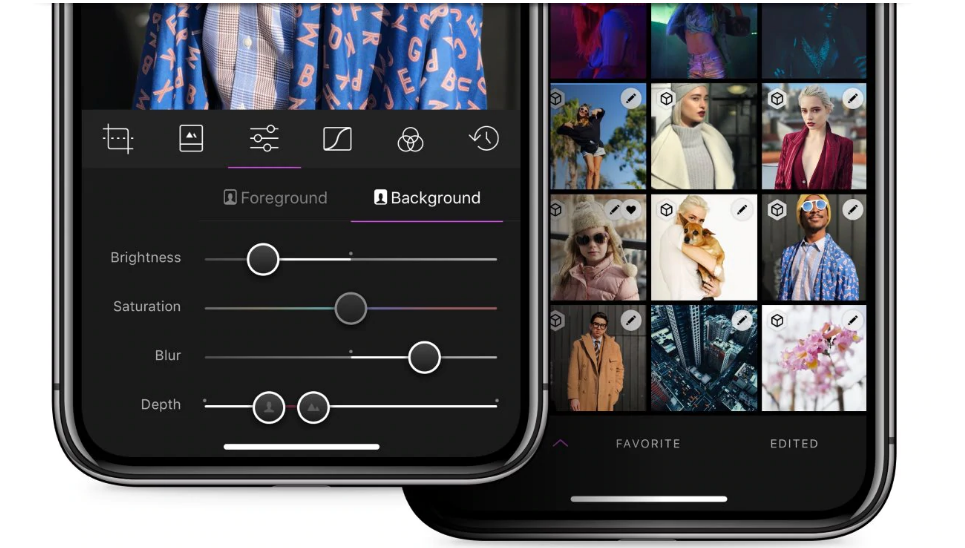 Here are some other cool stuff you can do with it:
Adjust focus on background and foreground
Create your filters
Apply one edit to several photos at once
#4: Darkroom is Designed for iOS
It's responsive both on iPhone and iPad. Moreover, it supports side-by-side view to edit two photos at once on two different windows.
When you turn your phone aside, a horizontal mode allows you to use two hands to manage the progress—which a savior. Plus, you get hundreds of handy shortcuts for most repetitive actions.
I remember using some free app on my iPhone X back in 2019 and it forced me to use every single feature in vertical mode. (and it sucked).
But I had no trouble turning my phone aside and continue working on details in horizontal mode on Darkroom. That helped me to see more details on my photos and spot more issues to fix as well.
#5: It's the Best Photo Album App as Well
Let's be honest, iPhones don't offer the best photo albums by default. I've always had this problem that I couldn't sort my images properly. But not anymore…
Darkroom has a minimalistic feature to help you categorize your image files and rename the folders so that you have a professionally sorted album.
While it's a basic feature for an app that costs $50, it's still fun to use and worthy of mention.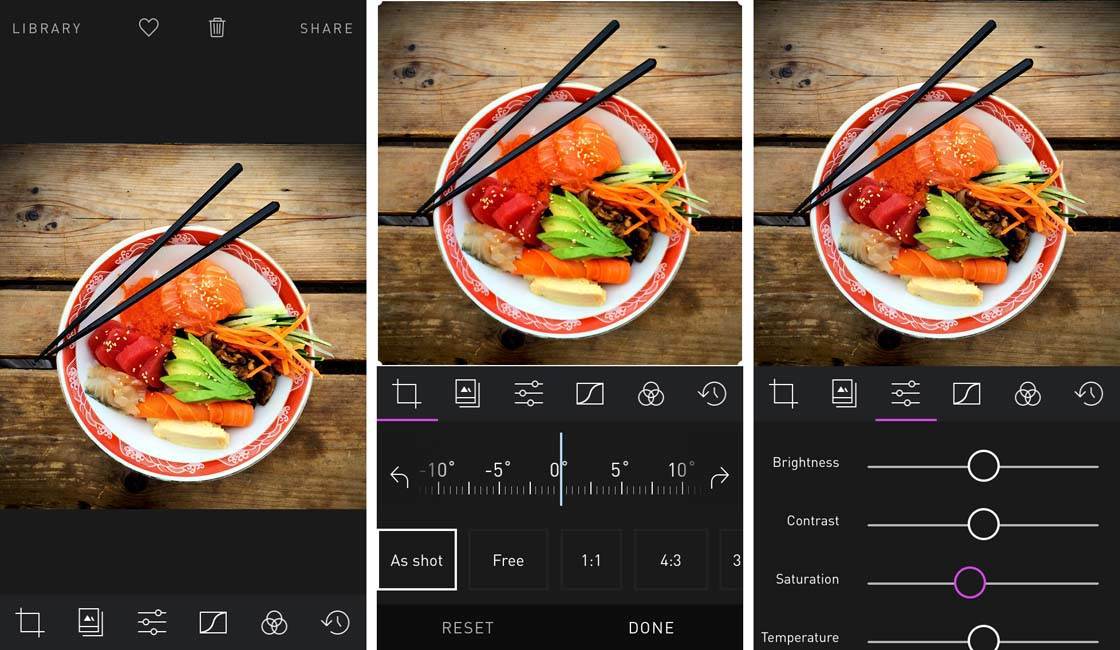 iOS editing apps pricing
If you're not going to edit every photo you take, it's not worth it to buy Darkroom. There are some other practical free alternatives such as Snapseed that will fulfill your needs.
However, if editing photos is a thing to you, and having the best iOS editing app would make you feel the power, go for it. It's better than other expensive ones (aka Adobe products).
Can I Use it for YouTube Video Editing?
The video editing tool in Darkroom is not sufficient for heavy projects. So, you're better off not using it for YouTube videos or other comparable clips that will be streamed on professional platforms.
Adobe Premiere Rush is a way better choice in that sense. That's because you get to shift the projects on different platforms and devices whenever you want to.
Conclusion
VSCO is good (sure), but the best free photo editing app on the iPhone is Snapseed. It's not going to charge you for membership and its interface makes adjustments as easy as possible. Plus, it's made by Google! So, it's a trustworthy application, too.
Was this post helpful?
Let us know if you liked the post. That's the only way we can improve.