If you are a twitter user, for whatever purpose, you have surely heard of Twitter impressions. But you might still wonder what twitter impressions actually are and why do they matter for your account's growth. It is a very demanded option by users to be able to see all their social media analytics, activities, engagement, etc. Twitter is one of those platforms that have granted this access to its users, and they can have all their accounts information, including full analytics of how their accounts have performed on Twitter with only a few clicks and for free!
What are Twitter impressions?
Twitter impressions are the number of times your tweet is shown to people, no matter how. It can be reached from the twitter search, a specific hashtag you have chosen, or even your own timeline. Twitter impressions show the total times a user is served a tweet.
Keep in mind that a tweet does not get impressions when someone sees the Tweet through an embed on a website, third-party platforms and impressions would be counted only if a tweet is noticed on Twitter, itself.
If I open a twitter account and aim to watch the tweets of a specific person, but for any reason, I do not actually get to read them, I have added to their twitter impressions and it does not matter whether the person actually reads the tweet or not and only seeing a tweet is counted as an impression. That literally means If you refresh your feed several times, you are giving impressions to all the tweets which are loaded on the feed!
Now that you have an overview of what impressions mean on twitter, you might be wondering Do twitter impression matter? Well, I'm going to give you the answer to this question in the next section below.
Why are Twitter impressions important?
By now, you have an idea of what some of the metrics for twitter analytics, such as impression, mean on twitter. You now need to know that keeping track of impressions can have a lot of benefits for your twitter marketing.
You'd know how your tweets have performed
Analyzing your twitter impressions gives you very exact and detailed information on how many times a tweet is seen or appeared in search results. This way, you'll know which one of your tweets performed better and what your audience likes to see more.
Monitoring the success of your Twitter marketing
You can use the in-app Twitter analytics tool to monitor your marketing campaign on twitter. You can count on twitter analytics as a metric for checking how many opportunities you have, and it helps you take advantage of these changes.
You can also get help from this information as a competitor analytics tool. If you see that your competitors are gaining much more impressions than you, it's time to hesitate what causes this success?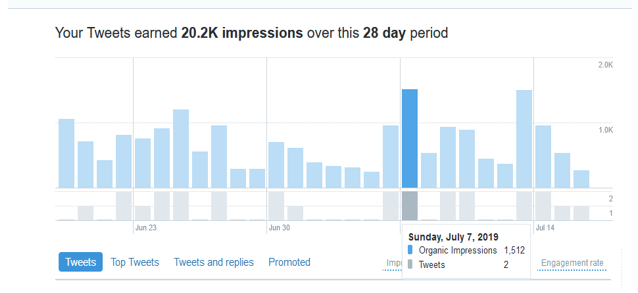 Track your advertisements
The best way to see if your ad is working good or not is to explore its twitter impressions. If your ad gets a lot or no impression at the very first, you can easily search to find out what you have done good or what you should do in order to improve its effectiveness.
What are the differences between Twitter Impressions and engagement? (Impression VS, Engagement)
Different social platforms have different explanations of "engagement" and "impressions" but since we are getting to know about twitter impressions, let me tell you that Twitter does not count engagement that much and pays more attention to impressions.
Impressions: As said above, Impression is the total time a tweet is seen as long as it remains in the feed and is displayed on the screen for other users.
Engagement: Your twitter engagement, also known as reach, is the total number of the interactions on your tweet, including likes, replies, comments, link clicks, and retweets.
Imagine you have 5k followers and decide to share a tweet, and all of them notices it (I know that is just impossible and is more like a dream come true, but just imagine), now your twitter impressions count would be 5k at the very first. But if some of them come to your profile and see the tweet again, or refresh their feed and your tweet is still there, the impression count keeps going up.
Where to find Twitter impressions?
First of all, you need to know that without enabling Twitter analytics, you will not be able to see twitter impressions and engagement or any other account data. So go ahead and activate Twitter analytics now to get full access to your Twitter impressions. You can view impressions per tweet, as well as collective impressions (across all tweets) for a specific time (such as the past month or the last week).
After enabling Twitter analytics, you'll be given a small graph icon at the bottom of each tweet, and as you click to open it, you will see that tweet's impressions and engagement. A small overall preview of impressions can also be found at the top right of each account's profile.
How to analyze Twitter impressions?
Keeping track of Twitter impressions is necessary for every Twitter account seeking growth and success on the platform. But having access to the analytics and detailed information such as how our tweets performed, when our tweets got the best impressions and who are our top followers, is not a thing we can do by ourselves.
There are two ways to keep track of twitter impressions. The first one is the in-app twitter analytics tool, which the platform has provided for us of its users, and the second one if using a complete package of monitoring and analyzing tools such as InoSocial. First I'll go with introducing InoSocial and how it can help you because I find it to be more useful.
The social media analytics tool
InoSocial is an ultimate social media management service offering things like automatic scheduler, data analytics tools, social media monitoring reports & all other useful features. You can get up to 100 different services for all your social media accounts, not only Twitter. Social media analytics is one of the main services of InoSocial.
powerful social media metrics
Using this tool, we can get accurate data about all our posts, audiences and accounts ' performance and grow it in a better way.
Find the best time to post
We can generate reports of Facebook Instagram twitter accounts to see the best time, which suits us fine to post on social media. We can easily check the most engaged days and content metrics divided by the content categories of text, photos, or videos.
Find the engaged users and top posts
Finding the top posts and photos would help us to know what our followers are looking for. Knowing what they need would give us the chance to grow your account faster and easier. Get the best results in a shorter time by using this complete social media analytics tool.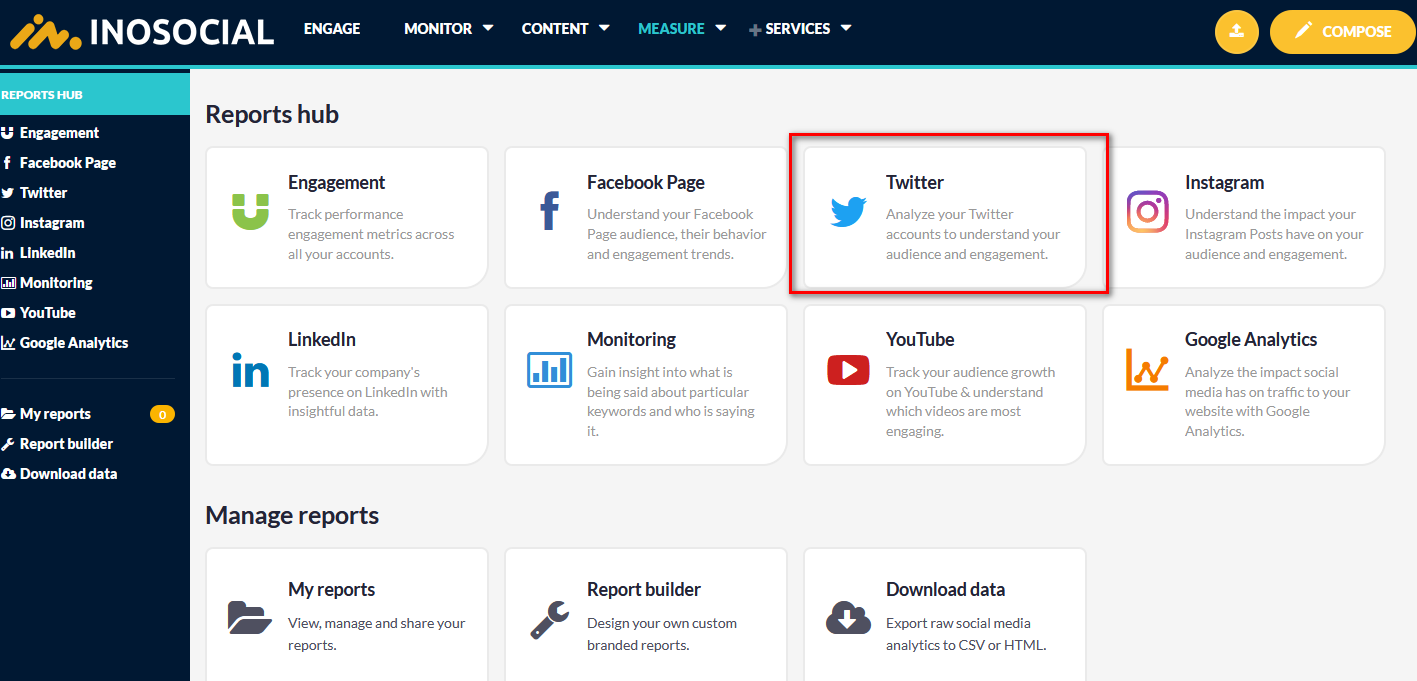 The Twitter analytics
Now it's time to get to know what different sections of the Twitter analytics page do. So below, I'm going to introduce different tabs of the analytics interface on Twitter.
Home
Here, in the home tab, you will find an overall statistic of how your account has performed from month to month, and this section also provides a list of the best tweets and their total twitter impressions.

Tweets
This tab is a complete analysis of each of your tweets and their detailed Impressions, engagements such as, how many people saw, retweeted, or liked them.
Audiences
Your audience section is where you can learn so much about your followers and their interests. Easily track the growth of the follower's count in this section with the valuable information it provides.
You can always head to Twitter business for more information on twitter analytics.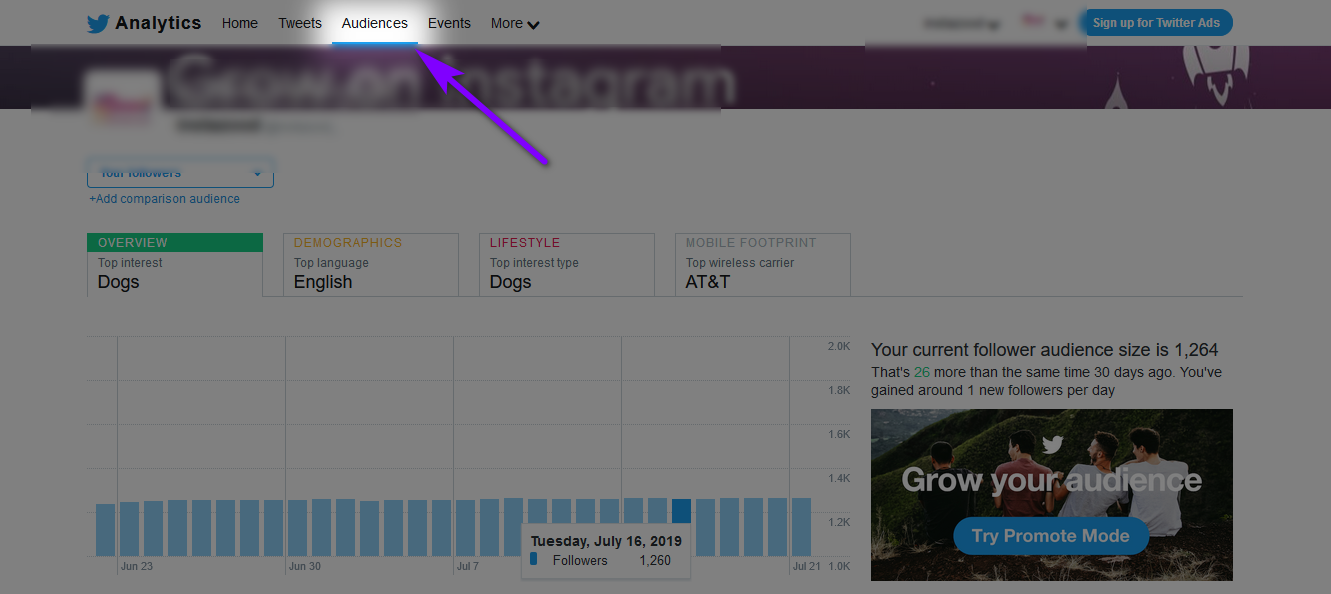 How to get more Twitter impressions?
If you want your twitter account to be showered with more impressions, the most obvious thing to do is to engage more with followers because engagement brings impressions to your account. Another very important factor in increasing twitter impressions is to put more time and effort into the contents and tweets. Below, you'll know more about how to increase twitter impressions.
Maintain a consistent engagement
As mentioned above, the first thing to do for more twitter impressions is to engage with your followers, other brands, and the influencers of your own niche. Get to know who your best followers are and keep interacting with them. Through the Twitter Analytics, easily find out these kinds of information.
Maintain a great relationship and interaction with your top followers to make them keep engaging with you. Top followers on twitter should be your priority because they are the biggest reason for the impressions you get on twitter.
Try to respond to your audience's questions and engage with other's tweets since the more you engage, the more the impressions will be.
If you want impression, ask for it
It's as simple as the caption says. Don't be afraid to ask followers for engagement directly. For example, you can add a "please retweet" or "retweet if you liked," at the end of your tweet. But use it wisely and don't look awkward. You have to ask it with a purpose and relate it to your tweet somehow. You cannot just tweet a joke and ask everybody for retweets or engagement.
Know the best time to tweet
Like all other social networks, Twitter also has that time on which the users are more active, and the tweets get more impressions if sent at that time. Whenever we open or refresh our Twitter feed, the tweets we see are the newest tweets of our followings, so it is natural if you tweet at 3 am, and your followers open their accounts on noon, your tweets have gone down their feed.
When is the best time to Tweet?
The best time for tweeting is the time the followers are most active, and this time, to your surprise, is mostly early mornings and late at night. These times are the spare time of most people since it is out of college, school, and work hours.
Regarding a study Buffer has published on the best times to tweet, the early morning hours appear to be the time in which tweets receive the most clicks, on average. Evenings and late at night are the times when your tweets receive the most favorites and retweets, on average.
So just take advantage of these times and share your tweets and do interactions on these golden times of twitter to get the most out of twitter impressions.
Increase daily tweet numbers
It is a well-known fact by almost everyone that the more you tweet, the more your visibility would be and the chances to get noticed and to get more twitter impressions would become higher. So tweet more often to be right in front of your tweets would get noticed, and your impression rate would grow.
Don't underestimate the power of hashtagging
I'm sure all of you reading this know what hashtags are, and what they do on social media platforms. Using hashtags means that you are opening arms to a huge number of a relevant, new audience to your niche. When you designate a hashtag for your tweet, you are making use of that hashtags like a bridge that would connect your tweet to all other tweets related to that hashtags and your tweet would show up whenever a person searched up for that specific hashtags and that means pure twitter impressions because you would show up in search results. So, never forget how using relevant and trending hashtags when tweeting.
Conclusion
We went through a brief definition of twitter impressions, their importance and the steps you can follow to improve your impressions, so now you know that even if you have neglected your twitter analytics and impressions till now if you want growth and an effective twitter marketing campaign, pay extra attention to twitter engagement and analytics.
Was this post helpful?
Let us know if you liked the post. That's the only way we can improve.