Tracking and monitoring the strategies are the essential actions that a business should take to be a step ahead of competitors. Using metrics for your social media platforms plays an important role in knowing the success of your business.
By increasing the number of users spending several hours a day on popular platforms such as Instagram, Facebook, and Twitter, you need to have an effective strategy to keep your business on top. Tracking and monitoring the strategies are the essential actions that a business should take to be a step ahead of competitors.
What are social media metrics?
Let's go through an example to know about the "social media metrics" better; you consider a goal for your business, which might be "increasing the number of your followers." Then you can easily identify which social media metrics and measures are necessary to increase the number of your followers. To reach your goal, you should have some strategies such as sharing attractive posts, posting at the best time, following new users, commenting on users' posts, etc.
To measure and make sure about the way your strategy work, you need a social media report and a measuring tool to show you the process of your taken actions.
In Short, social media metrics help you reach your primary before reaching the main one.
Using social media analytics and metrics are important because:
It proves your company's success.
It shows how your strategies are working
It makes you free of spending a lot of time to collect data manually.
It keeps you aware of your platform
It is useful for users who manage several accounts
It is a good reminder of your social media presence

What should a social media report include?
Well, you can barely find businesses that include the same information in their report, so it mainly depends on the purpose of your report. After clarifying the important elements, you can decide what to include in your social media report.
But generally, whenever you decide to have a social media report, you should answer some questions from yourself:
Who should see the report?
What are the important factors in the report?
What information is related to include in the report?
In what format should the report be?
How often should I share the report?
Answering all the mentioned questions is a big help in deciding what to include in the report.
Now let's review the most common metrics that businesses prefer to measure:
Number of posts
Net followers gain or loss
Number of likes
Post reach
Number of comments
Number of shares
Number of page/profile views
Number of clicks on post links
Number of clicks on the link in your bio
Number of story views
Number of video views
Top-performing post(s)
Number of leads generated
Number of conversions
Total revenue generated
Total spent (on social ads)
Social share of voice
Social sentiment
If you are preparing the report for your teammate, we recommend reporting a complete and in detail report, including what worked well and what needs some improvements.
Sharing all the related information will help you avoid future mistakes and experience a grow up in your company instead.
Moreover, you may need to get multiple reports for different audiences, so you should find out what's important and matter for each of your audiences.
Now it is time to measure the social media metrics
Users have two options in getting analytics of their social media platforms, including the platform's own analytics such as Twitter and Instagram's analytics, or you can save your time and get more in detail information by using a social media report tool.
By using InoSocial, you will have access to the filterable social media reports. InoSocial filters the report by platform and date; then you can share the report with the teammates, send it as an email, get its pdf, download it as an image, etc. and share it anywhere.
Any of the metrics clarify specific information about your social media platform. In other words, it's about interpreting what that metric tells you and translating that back to your business goals.
InoSocial's listening and monitoring feature
Generally, social media monitoring saves a lot of time and collects all the relevant information about your business and shows all of them in one place to you. Then you can use it to develop your business and make up your mistakes.
Actually, you can monitor your social media platform manually and look for mentions, hashtags, keywords, etc. all by yourself, but it may take a long time, even a whole day! And after taking a lot of time to find some information, you may not find all the data you were looking for and you may miss some of them!
Happily, you don't have to do it all by yourself; you should just leave it to a social media monitoring tool and use your time to promote your business.
How to use InoSocial's report and measure tool?
After signing up in InoSocial, you should tap on the "Measure" tab and choose the platform that you are willing to get its report.
We are going to try Instagram's metrics as an example.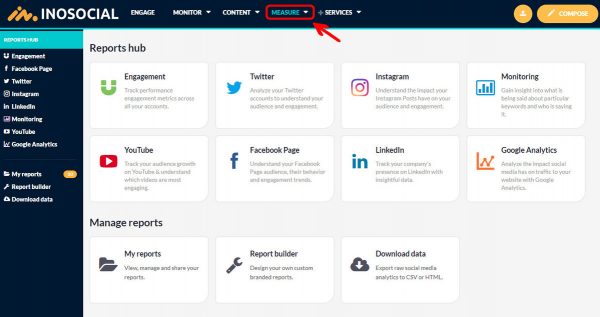 If you have added several Instagram accounts on InoSocial, choose one of the accounts by clicking on it. Then tap on the "Generate report."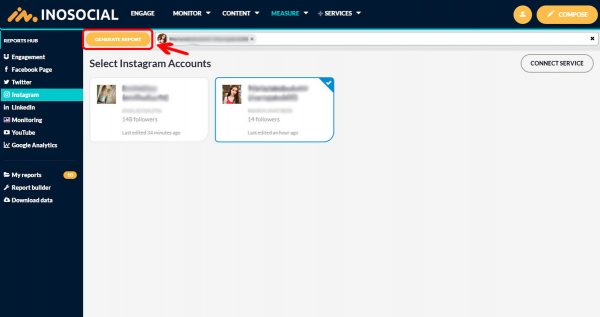 The report is set to show the 15 days report automatically, but you can change the date by tapping on the "Filter Date."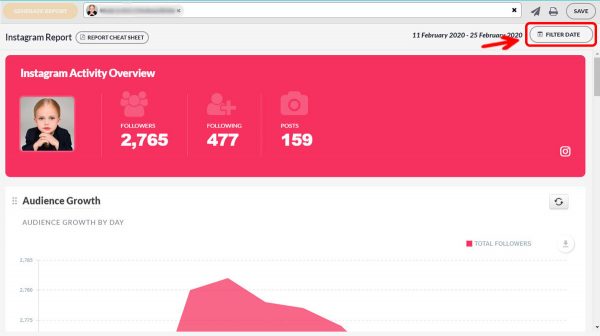 Then you can get all the mentioned details:
Instagram activity overview
Number of followers
Number of following
Number of posts

Audience growth
Audience growth by day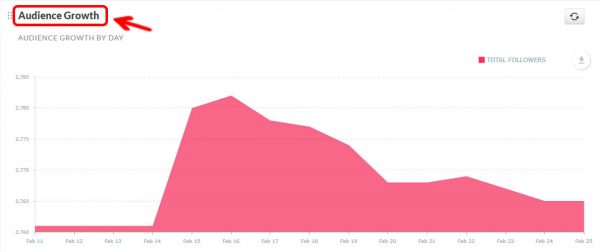 Follower metrics
Total followers
Followers gained
Total you follow
People you followed


Publishing
Probability of engagement
Best time to post
Number of received comments
Number of posted media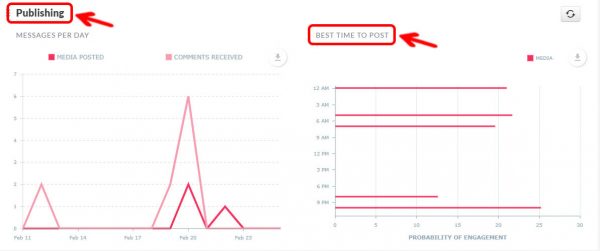 Publishing metrics
Total number of sent media
Total number of received comments

Audience engagement
Number of received likes
Number of received comments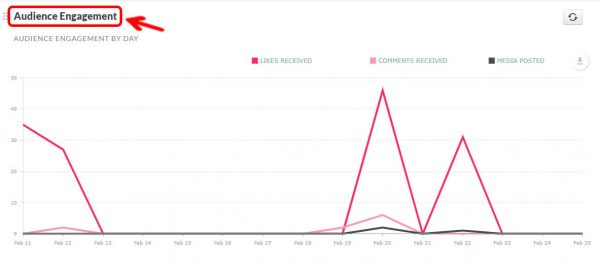 Engagement metrics
Number of received likes
Number of received comments for all posts
Number of received comments for the specific period
Number of sent posts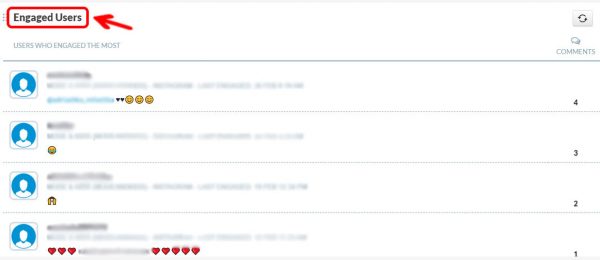 You can email the complete report or get it pdf, but if you just need a specific chart or information, tap on the right corner of the page to get the part of the report.

To wrap up
Using metrics for your social media platforms plays an important role in knowing the success of your business. You may not need all the metrics at the moment, but we predict that the majority of companies will need them after a period of time by considering new goals.
Try InoSocial and watch your business's growth anytime, just take a look at our pricing plans and choose the small, medium or large business based on what you need.
Was this post helpful?
Let us know if you liked the post. That's the only way we can improve.