If you are managing a Facebook page either for your personal experiences or for your business, knowing more about audiences, user behaviors, time to posts, and other analytics factors is a must. Facebook analytics is a tool to help find out more about the users, their actions and other important factors.
What is Facebook Analytics?
Facebook analytics is a tool to see the engagement rate, account growth rate, the best time to post on Facebook, top posts, and other Facebook data to see the status of the Facebook page.
Facebook insight provides some information about the above matter, but to see the detail of Facebook page data, you need to use some tools. InoSocial offers you tools required to view the analytics of any social media accounts, including Facebook, Instagram, Twitter, YouTube, and all other networks.
In InoSocial Facebook analytics, you can see:
Engagement rate
Audience growth
Best time to post
Impressions (number of times all posts are seen)
Top posts
Demographic data of users
Engaged users
Facebook analytics is a great tool to grow the Facebook page because you should track the engagement of a page, and to find out more about at which time you should send your posts, and for how many times a day. This action will change the impressions and reach of each post.
Demographics of users can help you to change the audiences if it is necessary. This is because users are like the target market of any business. The right audience is a must for every business. The range of age and location will be given by InoSocial analytics tools which, of great help to concentrate on the right audiences.
This is a must for every business, or account holder to find the right users for their page, or even to know more about audiences. It will help the page owner, for example, to advertise products that are more suitable for those specific audiences.
What is Facebook engagement?
Facebook engagement includes every action of users on Facebook posts. These actions include like, comments, clicks, and share.
Facebook engagement shows how useful a post is or how is the growth of the account. Undoubtedly, the more involvement an account has, the better that account performs in general.
Best Facebook analytics tools
Here are two main ways to see Facebook analytics. First, InoSocial tools and second insight section of the Facebook page. Though InoSocial would give a more user-friendly dashboard, compare to the Facebook insight section and you can add as many accounts as you want. Also, you would get insight into all other related social media accounts like Twitter, Instagram, and youtube.
Indeed, if you have multiple social media accounts, and numerous Facebook pages, InoSocial is better and will make it more simple and fast for you to manage all those accounts.
Also, you can get multiple page analytics and all other social media in one place, along with other necessary tools like social media monitoring.
To use Facebook analytics on InoSocial, follow the following instruction:
Sign up to the InoSocial dashboard
Click Add service on the top menu and add Facebook page: if you are signed in in your system, it will connect automatically to the Facebook page.
Go to measure on the top menu. You will see the Facebook page on the left menu. Click on that and select the services you want, then click generate the report.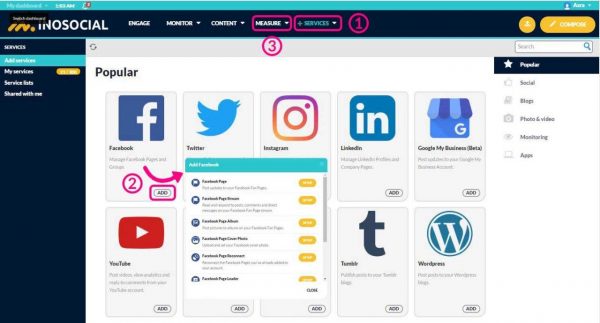 InoSocial analytics will show into two main sections: user's data, and content data
Users ANALYTICS includes:
Overview: the number of times posts are seen (impression), the number of people who have seen the posts (reach), the number of clicks on posts (consumption), and the number of people who clicked (engagements).
Audience growth: the trend of likes, unlikes, paid likes showed in a chart that is downloadable for the social report. The growth of likes will be shown in this section too.
Demographic data: age, gender, location of page fans, and people reached.
Engaged users: it shows who has more likes, comments, and clicks. This section will help you to identify top users when running a campaign or contest.
Content ANALYTICS includes:
Publishing behavior: the best time to post, posts by their types (text, links, video, photos), post sending growth, and top posts will be in this section.
Top performing posts: find out what users love by knowing the top-performing posts
Posts engagement trend: all posts engagement in a chart separated by likes, comments, clicks, and so on.
Facebook insight
The second way to use Facebook analytics is through the Facebook page itself. Though, it might be confusing for users to use facebook insight.
To use Facebook page insight, you should log in to your account and go to the Facebook page.
Login to your Facebook account
Go to Facebook page from home
Click on the top menu on insight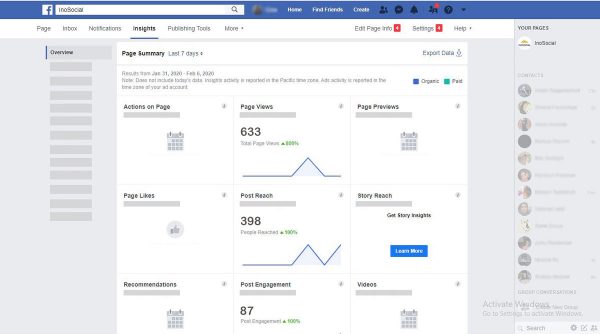 You can choose different parts from the left menu. By clicking each section on the main page, you will get a more in-depth insight. Though, It may look a bit confusing specifically for beginners to use Facebook insight.
If you have just started your Facebook page, or you have no ideas on how to use Facebook insight, you should go for InoSocial. It has a simple and easy to use dashboard, in which you can add all other social media too. Below are some of the Facebook analytics parts.
Facebook page analytics
Unfortunately, Facebook doesn't provide any analytics for personal profiles. Therefore, to see Facebook metrics, you should create a Facebook page. Facebook page analytics can be divided into main sections:
Followers
Like
Reach
Pageviews
Page previews
Action on page
Posts data
Events
Videos
Stories
Demographic
Messaging connections
Facebook video analytics
In the video analytics, you can see two different data:
Performance: the number of minutes all videos are watched from the selected period.
Top videos: highest performing videos by minutes viewed from the selected periods
Facebook group analytics
In the Facebook group analytics, you will find about
How to create Facebook analytics report?
Are you wondering how to generate a social media report? InoSocial has an easy and fast way to help you prepare your social media report. If you haven't got your InoSocial account, go to InoSocial and sign up.
To generate a social media account like the Facebook page, Instagram, Twitter or other networks
Click Add Service on the top menu
Add Facebook icon and add your Facebook page
Click Measure on the top menu
Choose the Facebook page from the left menu
Go to the data you need to download
Choose the format and download
Keep in mind that you can change the report as you need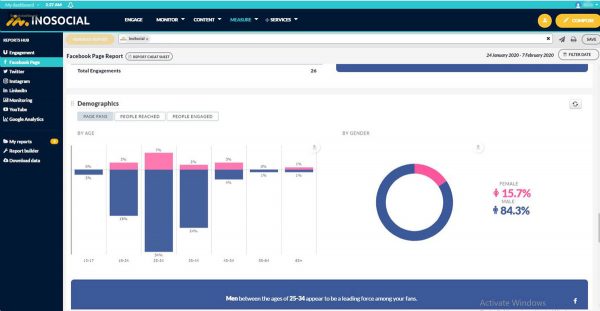 All in all
If you are running a Facebook business page for your brand, using Facebook analytics is a must for further improvement. In general, Facebook analytics gives you a better insight into what users may love and how to perform better on Facebook.
Was this post helpful?
Let us know if you liked the post. That's the only way we can improve.
How to use Facebook analytics?
If you are managing a Facebook page either for your personal experiences or for your business, knowing more about audiences, user behaviors, time to posts, and other analytics factors is a must.