Microsoft has partnered with Snapchat on a new AR campaign, which will see a series of game-themed AR Lenses showcased within the app of its next-generation Xbox series.
This week Microsoft is showing off its coming, next-gen Xbox Series X gaming console at its Xbox Games Showcase event, and it has officially announced that it has teamed up with Snapchat for better results and much more fun.
Snapchat has announced this news by sharing the statement below:
"To celebrate the Xbox Games Showcase, and provide fans at home with an immediate way to interact with the brand-new games being shown, Xbox worked with AR agency Look Mister to create 12 unique Snapchat Lenses based on many of the biggest game reveals from the show."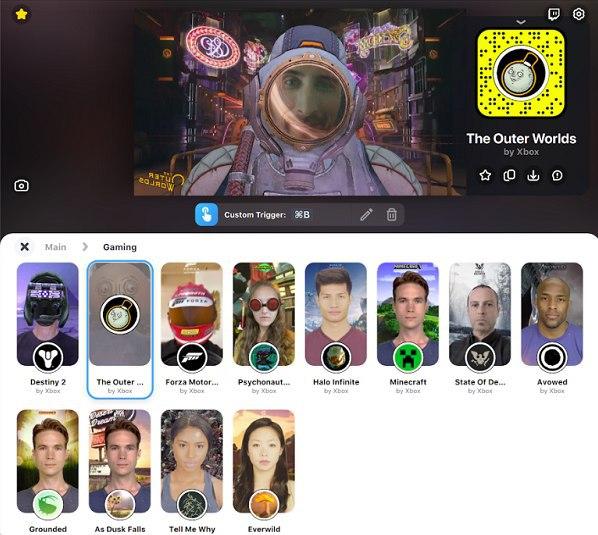 As it is obviously shown in the picture below, the 12 new lenses have their own sections within the Snap camera platform, and they can also be uses on the main app.
Per reports, the lenses, which are based on game titles including "Halo Infinite," "Minecraft," "Destiny 2," and "Forza Motorsport," are available on Snapchat and the Snap Camera desktop platform.
What are the benefits of Microsft adding Snapchat lenses?
There are, for sure, some advantages that made Microsft choose to partner with Snapchat. Some of these benefits are mentioned by the Mobile Marketer website that you can read about below.
Microsoft's promotion on Snapchat aims to build excitement for its updated Xbox gaming console and video game titles that will be released during the holiday shopping season. The company hosted the first Xbox Games Showcase, its biggest gaming event of the year, with a live-streamed presentation that lets viewers see a demonstration of the next Xbox X console while also practicing social distancing.
By creating AR lenses on Snapchat, Microsoft can engage a younger audience that's more likely than older generations to play video games. Among Snapchat's 238 million daily active users (DAUs), more than 180 million engaged with AR at least once a day in Q2. Snapchat each month reaches more than 100 million people in the U.S., including more than 90% of people ages 13 to 24 and more than 75% of people ages 13 to 34, per information provided by Snap. Those demographics match the profile of the 75% of U.S. households that have at least one gamer, as measured by the Entertainment Software Association (ESA).
The promotion is especially important in urging gamers to upgrade to the Xbox X, Microsoft's first video game console in seven years. The company seeks to grow its share of the global video game market, which is forecast to expand 9.3% to $159 billion this year, per Newzoo. Xbox is the latest brand to create AR lenses on Snapchat to engage smartphone users with a more immersive experience. With many people placing delivery orders for food while stuck at home during the coronavirus pandemic, DoorDash in May sponsored AR lenses that let Snapchat users immerse themselves in virtual versions of popular restaurant chains, including Cheesecake Factory, Chili's and Outback Steakhouse. The same month, the financial services company USAA this month introduced its first AR lens as part of its annual Memorial Day event. Universal Pictures in April created an AR lens that let Snapchat users transform themselves into characters from the movie "Trolls World Tour," which was released straight to video-on-demand (VOD) platforms.
Was this post helpful?
Let us know if you liked the post. That's the only way we can improve.