If you use Facebook very often and you have been on Facebook for years, you have surely faced the error "This content isn't available right now" at least once, or you have heard of another Facebook user having this problem.
It's not something you need profound research for, so, ordering essay help by EssayHub wouldn't be that viable in this case. Yet, you will definitely need this service if your major is connected to social media or programming. Meanwhile, this article will explain the basic reasons for the error mentioned above.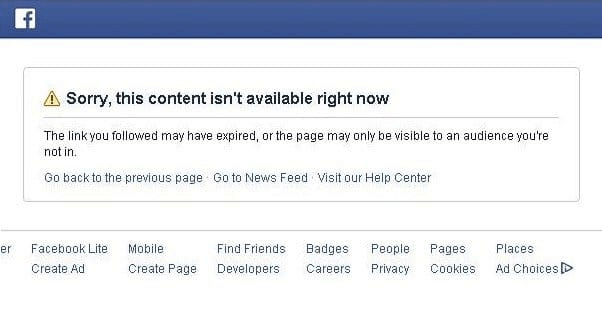 9 reasons you see "Sorry, this content isn't available right now" on Facebook
I have searched the whole web in order to find the reasons why this error shows up on Facebook, and I have gathered all the reasons why this message appears.
Below are all the reasons why you get "Sorry, This Content Isn't Available Right Now "on Facebook.
You are blocked
We all know that when someone chooses to block us on Facebook, we can no longer see their posts, which can cause the "this content isn't available right now" on Facebook.
2. The content is flagged as spam
If a Facebook post is inappropriate and violates any rules, it would be deleted and flagged as spam, so that might be a reason why you get this error.
3. You might have been logged out
Sometimes, Facebook makes you log out of your account, involuntarily and you might be unaware of that. But all you need to do is refresh the page and when the login screen shows up, enter your credentials to get logged in successfully. Then search the content once again, and you would most probably see the "this content isn't available right now" error is gone.
4. The post's privacy settings are changed
There are times that you can no longer see a post you could see earlier; that might be because the poster has decided to change the post's settings and make it more private and choose who can see the post. Options like Public, Friends, Friends except.., Specific friends, etc., are available on Facebook, and if these settings are changed by the owner, there is nothing you can do to fix it.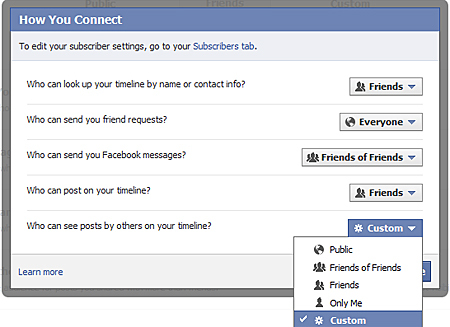 5. The post is removed by the original poster
The post you are trying to reach might be deleted by the person who posted it for any reason, and anyone who tries to see it might face this famous error.
6. The post has location or age restrictions
Facebook allows its users to choose who they'd like to see their posts and to keep the content restricted to a specific age group or location. The post which is shown to you as unavailable might have location or age restrictions that you are not qualified to see. Meanwhile you may use any VPN service provider to check if it does work. You can read more about best VPN for Facebook on Reviewedbypro website.
7. Facebook might be down
Whenever we face errors and bugs on any platform, one of the first reasons which come into our mind is that the platform has faced issues. When you get "This content isn't available right now" error, Facebook might be facing global crashes and issues.
You can check whether Facebook is down or not on "Down detector" and see if the problem is from Facebook's side.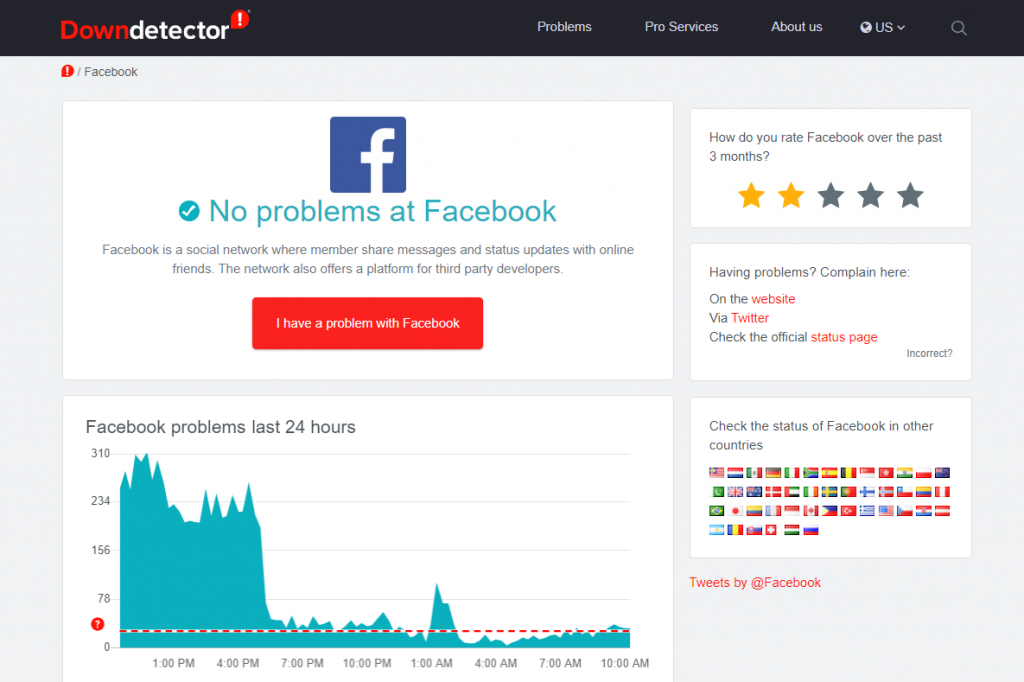 8. Malware or Bug Intrusion
This might be surprising, but some Facebook users found out that a virus or bug was the reason that they saw the "This content isn't available right now" error on Facebook. Make sure to clear out any virus and malware from your device using an anti-virus.
9. The original poster has deactivated or deleted their account
When someone deactivated or deleted their Facebook account, their content might be affected. Another common reason why users might be getting an error "this page isn't available" is because the user has deactivated his profile by which the content was posted.
Conclusion
There are several reasons why we get "this content isn't available right now" on Facebook when trying to reach a post. Some of these causes have solutions, and some of them do not, and now you all the factors which make a user face this error.
Was this post helpful?
Let us know if you liked the post. That's the only way we can improve.