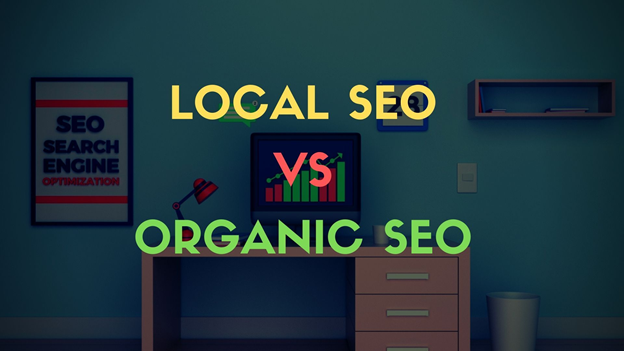 You've certainly heard of both local SEO and organic SEO if you're already effectively promoting your online business.
However, you may be curious what the distinction is between the two. In this article, you'll learn the differences between local SEO and organic SEO, and as well as how they're related.
Both of these begin with the same thing: a search. First, let us discuss what local search is.
What Is Local Search?
The most distinguishing factor between organic and local search is that local SEO includes a geographic element.
When a user browses for industry and place, the search engine recognizes that the user is looking for something local. In some cases, search engines will infer local context. And the only thing that matters to search engines is that they provide the user with exactly what they're looking for.
What Is Local SEO?
Local SEO involves the practice of enhancing the company's web exposure so that it ranks in search results.
It pertains to small and medium enterprises with a central site, nationwide enterprise brands, or networks. When a company meets with its clients face to face, it is referred to as a local business, and it can benefit from a unique set of strategies and talents to improve its online presence. It's important to hire a local search engine optimization company if you want to obtain its maximum potential.
What Is Organic Search?
When search engines determine that the search has no local relevance they use organic search. Rather than seeking for a physical spot, the searcher is seeking information.
You might be curious about how search engines decide whether localized or organic results are the best or most appropriate.
Hundreds of parameters, including keywords, outgoing and inbound links, are used by search engines to rate and classify web pages in searches.
Who Should Rank in Local Vs. Organic search?
Businesses that have a geographical location and a physical workplace will wish to rank high in a local search. Local businesses must appear in local searches for their industry because the searcher is most likely looking for a particular good or service.
However, if you want your company to appear for particular search keywords but not for a particular area, you should aim for a high ranking.
Should Local Businesses Achieve High Rankings in Organic Search Results?
Because companies are likely to possess a website because they wish to rank for generic, recognized queries, multi-location businesses should rank locally and organically. However, they may like to rank regionally so that local customers can locate them. If your local business runs a blog, you may want to be found both locally and organically.
This is where organic SEO comes in. The technique of ensuring that search engines recognize which searches your brand or webpage is appropriate for is known as search engine optimization.
Your business should be suitable for a given search to rank better in search rankings, both organically and locally. And you must declare the evidence to convince search engines that your company is the best response for a specific inquiry.
Why Local SEO?
Local SEO optimization, of course, is heavily influenced by a company's location. When someone looks for a place, search engines have to understand specifically where your business operates so that they may find the businesses that are situated there.
To state the truth, you should ensure your company's name, location, and phone number are consistent throughout local classified databases and your webpage for local SEO. However, that is the minimal minimum you will require for local SEO.
Why Organic SEO?
Organic SEO is primarily concerned with whether or not your website is suitable for specific searches instead of its location.
When a website is optimized for organic search, the goal is to have it appear for specific searches. To speak the truth, particular keywords must be included in headings and paragraphs for organic SEO. Some SEO techniques can also assist with both local and organic search rankings.
What Are the Effects of Local SEO and Organic SEO on Each Other?
Local SEO on-site might also improve your organic SEO. Because search engines prefer new content, local SEO can help to enhance your organic SEO efforts while also sending out indications of local importance. Keep in mind that, while SEO is search engine optimization, it is also what allows customers to locate your company. While you want to ensure that search engines are aware of your company and website, it is critical to consider potential clients that are browsing for your company. No matter what type of SEO you're after, consider using a specialist internet marketing miami company to help you out, or one more local to you. Be prepared to do some research to find the one that you are looking for.
Conclusion
No matter which type of SEO you are opting for, you must get it from an Experienced SEO consultant. Hiring one is mandatory if you want to make your enterprise a success in this digital era.
Was this post helpful?
Let us know if you liked the post. That's the only way we can improve.