Instagram is now the most prominent photo and video sharing platform, with billions of monthly active users. Instagram is used for many purposes, not only sharing photos and videos. Now, Instagram is an essential platform for many businesses that sell or introduce their products on Instagram.
By allocation account-specific for businesses, Instagram made it easy for businesses to advertise there. Instagram itself provides the facilities and opportunities, including Instagram insight, and promoting platform (an advertising platform) to boost their accounts or companies.
There are many limitations to it, including adding only a website in bio or no link in posts (except for tags and mentions). Also, there is no option for users to download Instagram videos and photos.
Why Instagram downloader?
Since Instagram is launched, many users are looking to download Instagram photos and videos. Till now, there is no direct way to receive and save the videos from the Instagram app or desktop. What you can do is to save the post in your Instagram app, save section. This option would allow users to keep the posts in the app. However, if the account owner removes the posts, or archive that, or even change the account from public to private (and you were not the followers), you no longer can see the post.
Many users prefer to have a video or photo in their gallery and send it directly (without directing to Instagram) to friends.
So, what is the solution? As always, once there is a limitation besides the app, tools will appear. Now, only using tools you can view or save photos and videos from Instagram.
All you should do is to have the URL of Instagram post. But you should make sure that the account is public. If the account is private, you cannot have access to content through tools. But what are the best Instagram photo and video downloader?
How to copy the link of an Instagram post?
Before going to the next section, please note that you need to link to the Instagram post. To copy the Instagram posts' link:
Open the Instagram app
Go to the post you are going to download
Tap three dots icon on the top right of the post
Tap Copy link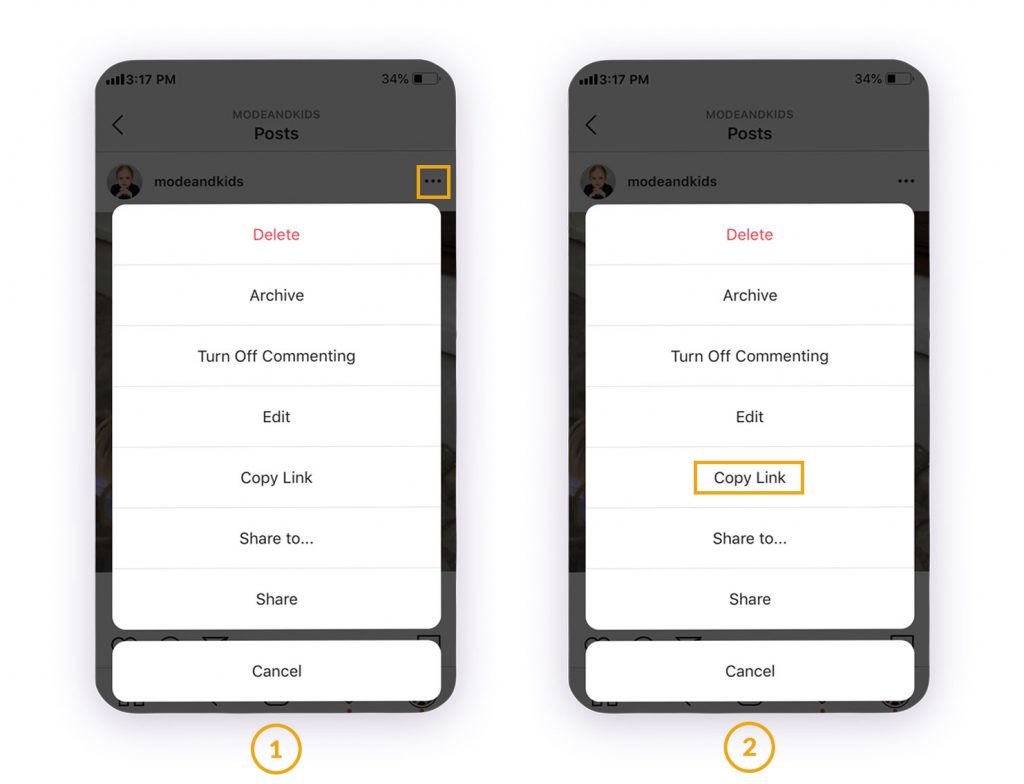 That's it! But make sure you have to see n the message that link copied to your URL. Now you can paste the link in any downloader box to download the video or photos.
The best free Instagram downloaders
These apps are free, and you don't need to even log in to the account.
1. InsTake Downloader
One of the best and most powerful Instagram downloaders is InsTake Downloader application, which can be mentioned as one of the most complete applications for downloading photos, posts, profiles, stories, IGTV, and Instagram Reels. This application currently has more than 10 million active installations and will offer you many features.
Among the unique features of the Instagram downloader InsTake Downloader application, we can mention downloading the complete Instagram profile and re-sharing Instagram posts. In this application, you can even download users' profile photos.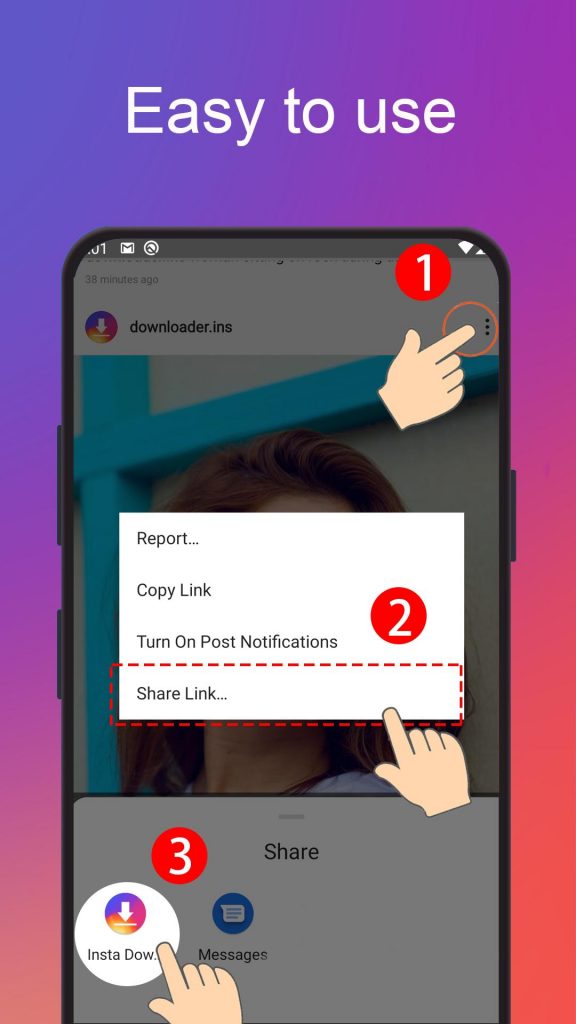 Important features of the InsTake Downloader application
Fast file download speed and rate
Ability to download any type of content from Instagram such as IGTV or profile photo
Ability to share posts on Instagram (copy posts(
Use the Dark Mode feature as well as the built-in video player to run downloaded posts from Instagram
2. Video Downloader – for Instagram Repost App
One of the best Instagram downloader apps is Video Downloader – for Instagram Repost. In addition to the important capabilities of downloading posts, stories, and IGTV, this program also fetches post hashtags and provides users to share and repost. Of course, this application is free and you do not have to pay for it.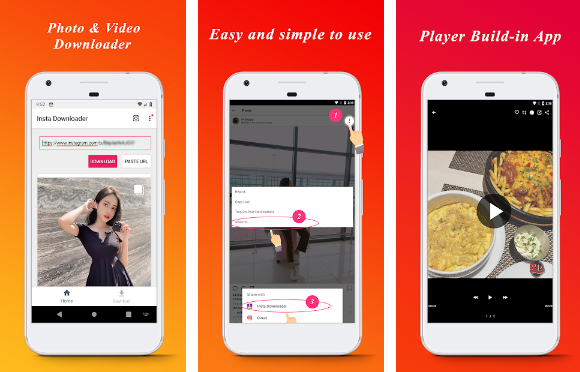 3. Repost For Instagram – Regrann
Repost for Instagram – Regrann application is another application for downloading videos and posts from Instagram. Of course, this application has another main feature that allows you to download pictures, videos, and photos of others without following the person and send them as a post on your Instagram account.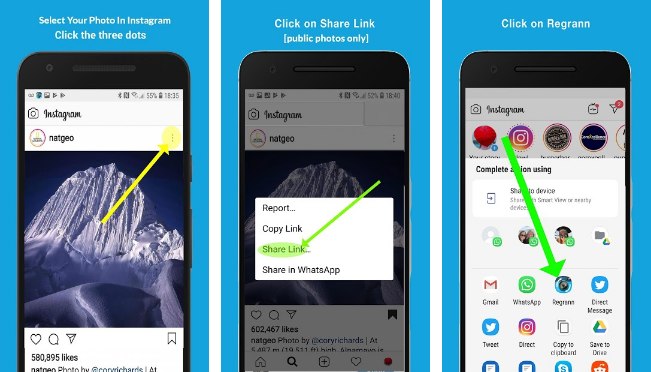 In this application, there is also the ability to schedule posts on Instagram. Suppose you want to take a post from a page and send it at a specific time, in this application all this is done automatically, just select the Copy share URL button and Schedule.
4. InstaGet application
InstaGet is another application that allows you to download photos, posts, and videos from other pages. One of the advantages of this application is that there is no need for Instagram to be available and the page to be reloaded. Of course, if you are also looking for the fastest Instagram download app, InstaGet is one of your options.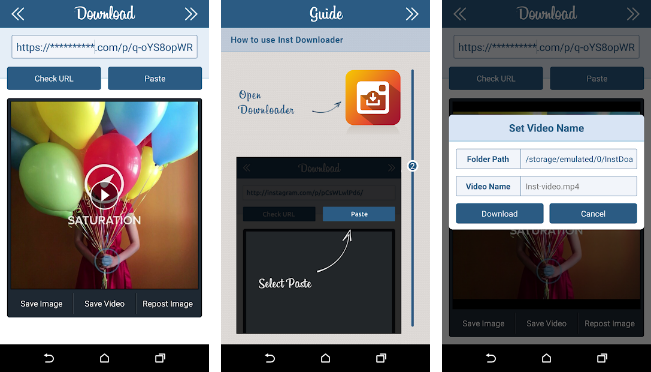 5. Downloader for Instagram: Photo & Video Saver
If you want an Instagram downloader application with a great user interface and easy-to-use that can not only download photos and videos but also share them again, you can use Downloader for Instagram: Photo & Video Saver. Its features include no need to log in to Instagram, simplicity, and reshaping your post on your user page
6. FastSave For Instagram
Another Instagram downloader is the FastSave For Instagram app. This application, like other Instagram downloader programs, can download and provide photos, videos, IGTV, and other items on this social network. From this application, you can even view the posts you have saved while offline and use its content.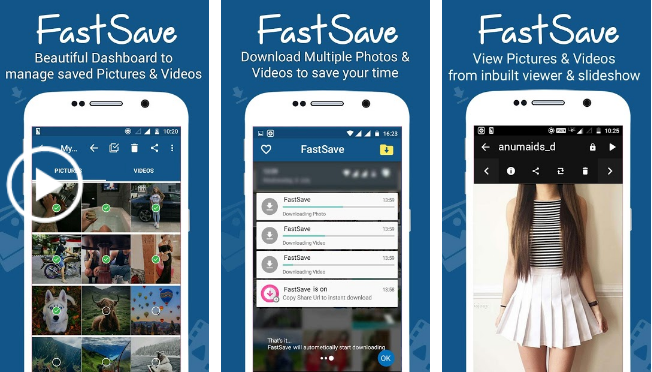 Besides, there are no download restrictions in this application, so you can safely download and use any post number you want through this method.
Instagram downloader websites
One of the most amazing tools for Instagram. Ingrammar Instagram profile analyzer or profile downloader is handy and easily accessible. There is no redirection system or Ads. You can enter the URL directly and get the photo or videos you want.
Though, this website initially provides the Instagram marketing tools, including a profile analyzer, hashtag generator, Instagram search, and some other tools to grow and boost your Instagram account.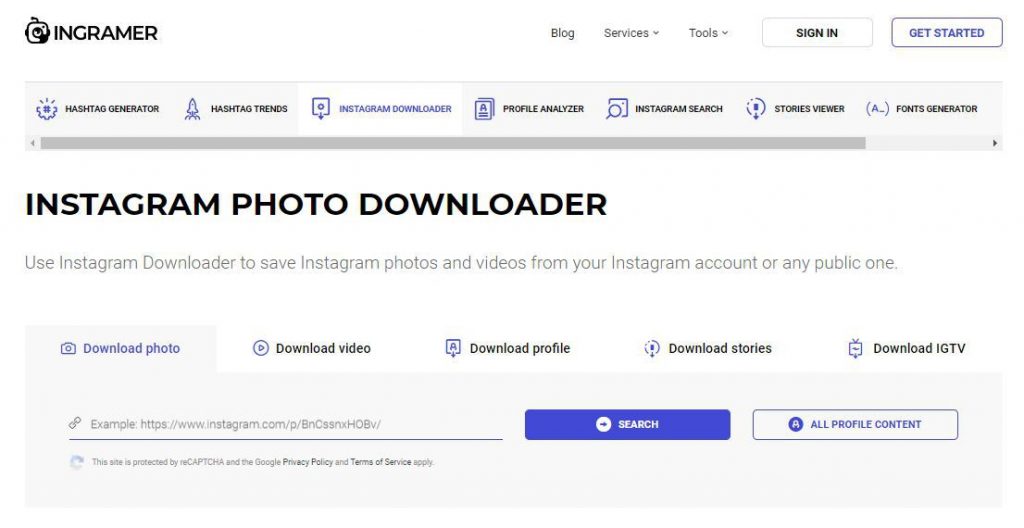 The second famous website to download the video of Instagram is downloadgram. This website is designed initially to download the Instagram videos and photos of public account. In the first attempt, you might be redirected to ads. You can ignore that and try to download it again.
If you face any issue, you can try later or check your internet connection. if you have no access to a PC, you can try this website from a browser on your smartphone.
For those people who do not want to use Instagram downloader applications or who prefer the web version to the application, the Downloadgram website is the best option to download photos and posts from Instagram. This website allows you to bring your posts into the web page and download images or videos with just a simple copy of the Instagram link.
To be able to use the Downloadgram website, first open the Instagram application or the web version of Instagram and find the post you want. Then click on the three dots icon at the top of the post and select the Copy link location. Now go back to the Downloadgram website and put the link you copied into the website box to start downloading your video or post.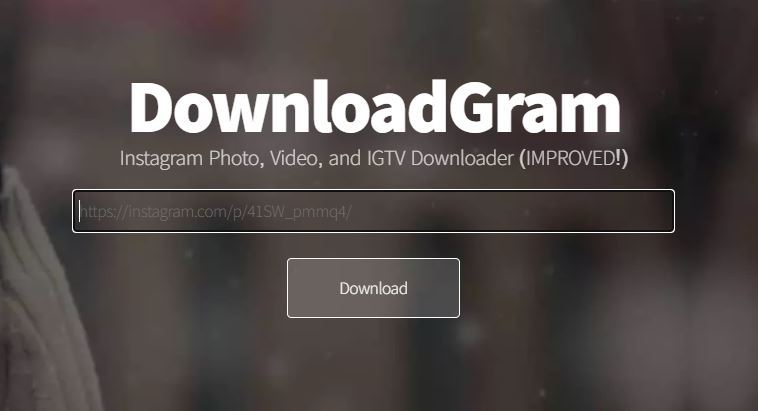 The third famous Instagram video and photos downloader is instadownloder that is the same as the downloadgram. If you face any issues with the above tools, you can try this one. For example, if you are going to download the carousel photos, and you see some of the above does work.
This website is the same as the downloadgram, which is designed to download from Instagram. However, it includes an advertisement from Google.

Conclusion
Using an Instagram downloader is effortless. All you need is to copy and paste the Instagram URL into the box available on the above websites.
There are many apps and websites for downloading Instagram content that you can use. The best Instagram download application is a program that has high speed and accuracy and can easily provide you with the desired post along with its captions and hashtags, regardless of the problems. In this way, you can easily use the application or website you want.
If you have any questions about the Instagram downloaders reviewed in this article, you can ask in the comments section.
Was this post helpful?
Let us know if you liked the post. That's the only way we can improve.