Instagram is one of the most important social networks for businesses, which can be the best and cheapest marketing method. Increasing sales and branding of businesses on Instagram depends on the number of followers, which is a relatively difficult task; But the most popular Instagram-ready hashtag can be one of the miracles that quickly increase followers, resulting in branding and increased sales.
The Instagram hashtag acts as a category and when a person searches for a word in the Instagram Explorer section, the result is displayed to the user based on these hashtags. Now, if a person is going to increase his followers, likes and comments, he should go to the most visited fixed hashtags on Instagram.
How to properly use hashtags on Instagram
Hashtag is usually used by users to create campaigns, occasions, celebrations, events, ceremonies, culture or other personal, social, political, religious and other topics.
The use of hashtags can be categorized into three specific cases:
Help find and find content for people looking for a specific hashtag.
Classify different content in a specific account
Convey the emotional burden of the message
The effect of popular and useful hashtags on post traffic:
Using hashtags in the post you publish increases the audience participation in your post by 12.6%. You are allowed to use 30 hashtags on Instagram; But you should not take into account the fact that if you use repetitive hashtags repeatedly, Instagram will penalize you and your post will be out of sight of the audience.
The importance of hashtags in business:
The special importance of hashtags in social networks is that this way potential customers can find your business. You can use popular hashtags to give users access to your posts and content on social networks and thus attract customers to your social networks.
The more hashtags used on Instagram, the more popular the hashtag is and the more likely it is that it will drive more users to your Instagram.
In this article, we tried to introduce the famous Instagram hashtags and introduce you to them. These popular and widely used hashtags have a great effect on the number of views of posts and have a direct relationship with the visibility of your post and page. Follow us to get acquainted with the famous Instagram hashtags.
30 most popular Instagram hashtags
Before learning about the most popular hashtags on Instagram, it is better to know what types of hashtags are there: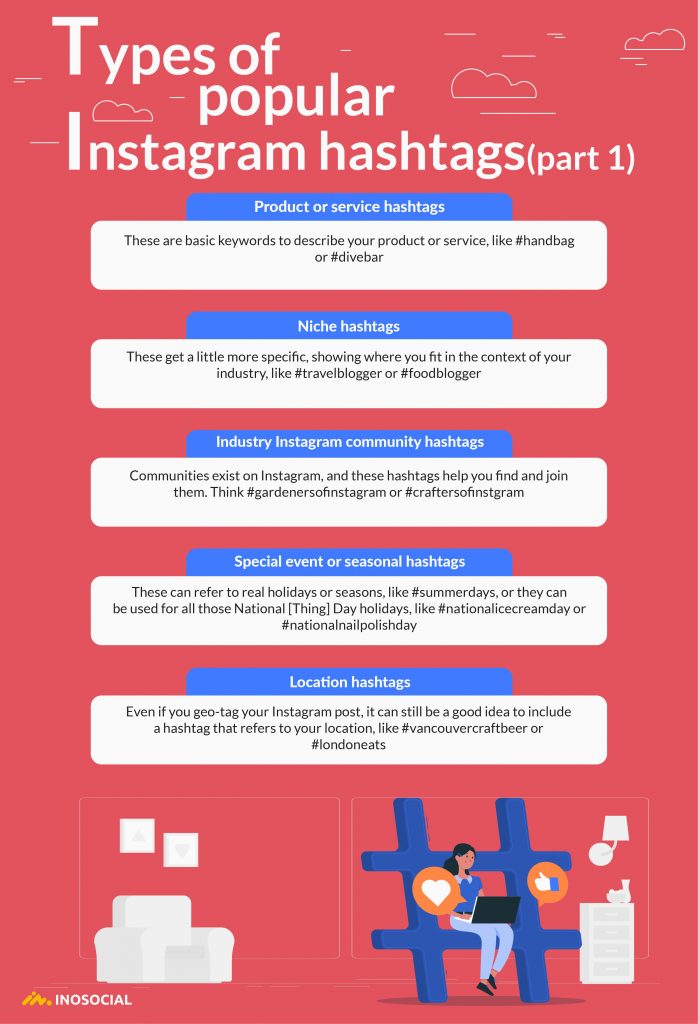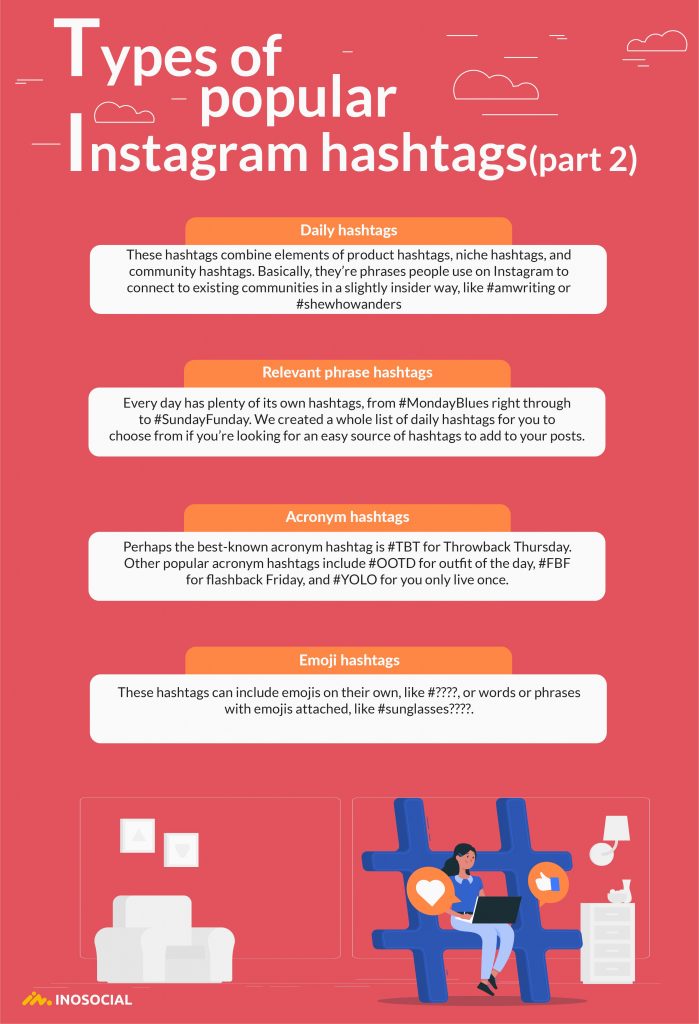 Most popular Instagram hashtags are:
#LOVE: The most poular ishtag is Instagram. Love is the popular word of the users of this network. More than 1.5 billion photos have been uploaded on it and it has a lot of fans.
#INSTAGOOD: The second most popular hashtag on Instagram, which is related to anything that is good and popular with the users of this network. Nearly 750 million photos were shared on it.
#PHOTOOFTHEDAY: Photo of the Day, the third most popular hashtag for Instagram users. If you want to see what is the popular day photo of the users of this network, refer to this hashtag. Half a billion photos will be available to you.
#FASHION: Fashion is the fourth most popular Instagram hashtag. This shows how popular the fashion and clothing industry is with the users of this photo-oriented network, and how effective Instagram has been in boosting fashion and clothing. Do not forget this hashtag to see the new trends of brands and fashion houses.
#BEAUTIFUL: The word beautiful is ranked fifth in the list of 50. Anything that is beautiful to the users of this network is uploaded to it. Whether related or unrelated!
#HAPPY: Happiness ranks sixth. About half a billion photos have been taken so far. It is popular and has many applications. A good option for positive energy!
#CUTE: You understand the meaning of it, it is interesting and attractive and it must be widely used. It is ranked seventh.
#TBT: Yes! This seemingly meaningless word is the eighth most popular Instagram hashtag.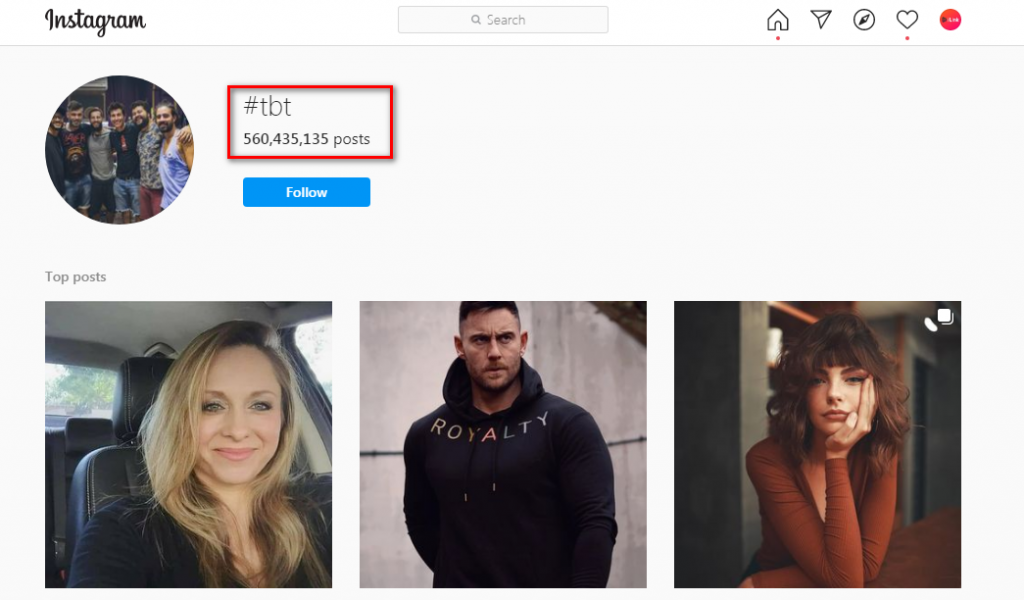 # LIKE4LIKE: Like exchange. It is a concept that can be deduced. More than 400 million photos are tagged on it.
#FOLLOWME: People who want people to follow them upload images to it.
#PICOFTHEDAY: Photo of the day, more than 350 million photos were recorded on it.
#FOLLOW: A popular word in this app that ranks twelfth.
#ME: No wonder this popular word ranks 13th.
#SELFIE: Selfie addicts always use this hashtag. The king of Instagram selfies is Kim Kardashian, who is on the list of 10 most viewed pages of this network.
#SUMMER: The most popular season of Instagram players! Summer. More than 340 million photos have been uploaded from the users' summer tours of this network.
#ART: From Hyper-Realism to Abstract Expressionism from the Louvre to the Hermitage of St. Petersburg. From Da Vinci or Edward Monk. Everything about art is popular on this word. You can also follow the art events of the world on it. A way to meet art lovers on this network!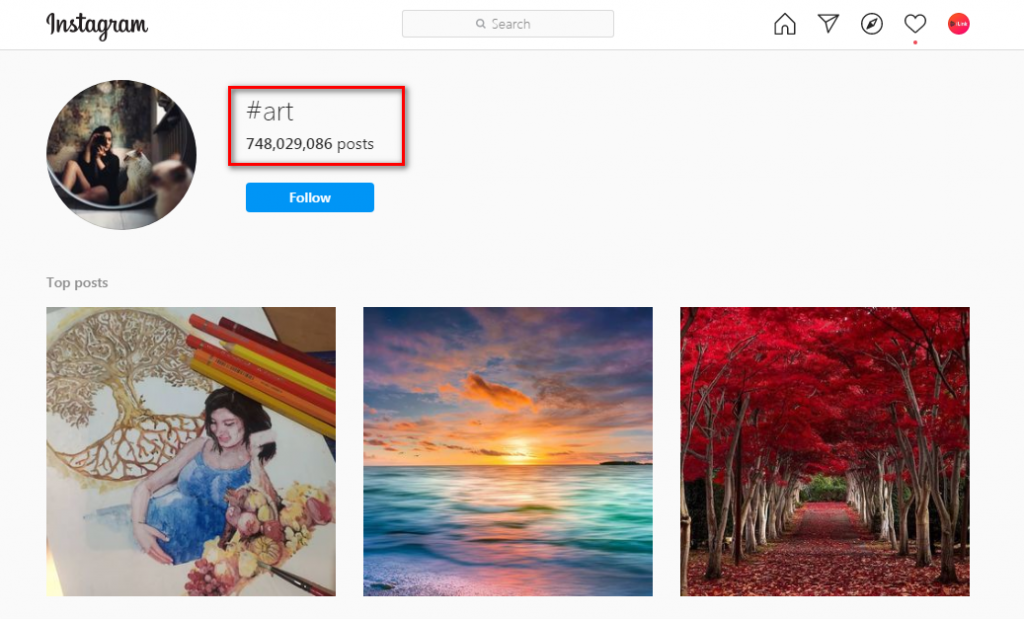 #INSTADAILY: Although it ranks seventeenth, it is not very popular. The daily users of this app can be viewed on this.
#FRIEDNS: Friends! Friends and friends! The hashtag is popular on Instagram, and all group images are usually uploaded to it. Especially for lovers of tourism bloggers.
#REPOST: means RE POST. You must have noticed the issue of 19th place.
#NATURE: Although the National Geographic page is on the network's list of 50 most viewed pages, a tour of nature in a thousand colors, a thousand roles can be found in Nature.
#GIRL: Girl. It is a popular word on Instagram. Especially young ladies to watch new fashions.
#FUN: Anything related to laughter and happiness will be tagged on Fan, the 22nd most popular Instagram hashtag.
#STYLE: Style, stylist and style design, is the famous word in this creative startup of our time, which is very popular among the users of this app, and you can see new trends in style design in it.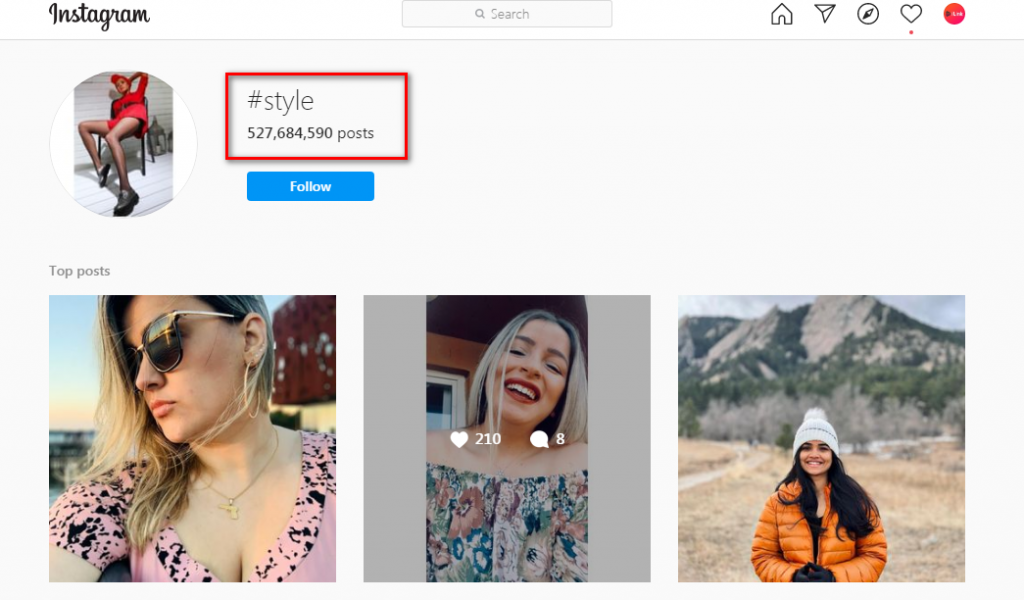 #SMILE: Laughter! The forgotten alchemy of our lifestyle today! The twenty-fourth word is popular.
#FOOD: If you do not know how to cook, do not worry. Tens of thousands of chefs teach you a variety of foods throughout the day with photos and videos. Just check the topics published on the food. Many became cooks with this hashtag! Hard to believe!
#INSTALIKE: The 26th most popular word on this social media is photo-centric. About 300 million photos were uploaded to it.
#FAMILY: Images related to family topics are recorded on it. For family travel, this word is recommended to acquaint you with the lifestyle of the people.
#TRAVEL: For lovers of travel, tourism and entertainment, acquaintance with tourist destinations and attractions in different parts of the world, will be available through this hashtag. A popular choice for tourists bloggers and those looking to explore lesser places. Especially surfers and internet users.
#FITNESS: The methods of bodybuilding and bodybuilding and communication with instructors and theorists in this field around the world can be followed on fitness.
# FOLLOW4FOLLOW: Follow against follow! Interesting word to follow the game and attract more audience.
Was this post helpful?
Let us know if you liked the post. That's the only way we can improve.