YouTube is the biggest platform to share videos, and it is the second popular website all over the globe. Scheduling YouTube videos is a must for those who want to boost their accounts on YouTube.
Schedule YouTube videos is a must to keep your consistency and presence on this social media platform. Recently, YouTube has added a stories section to its website, which shows the presence and activity are getting more important than before.
Can you schedule YouTube videos?
Yes, of course. YouTube allows its users to schedule videos easily with in-app options. If you have multiple videos, it's better to schedule them ahead of time instead of posting them all at once.
As a social media user, you surely know that almost all other platforms allow in-app scheduling as well. There are scheduling options of Twitter, Facebook and etc. YouTube is not an exception in this. YouTube is now catching up, but it may not be easy to find the settings and take the steps you need to do so. Bellow's what you need to know.
What are the best ways to schedule YouTube videos?
There are two main ways you can use to schedule and plan your YouTube videos. First, the YouTube website in which you can only schedule one video to one account.
YouTube scheduler
In this way, you can keep your account organized, even if you are away.
To schedule YouTube videos:
Sign up to your account
Click on the Create on top right
Upload your video
Enter the title and description, click next
Skip the video elements
In the visibility, section click on Schedule
Select the date and time
Click Schedule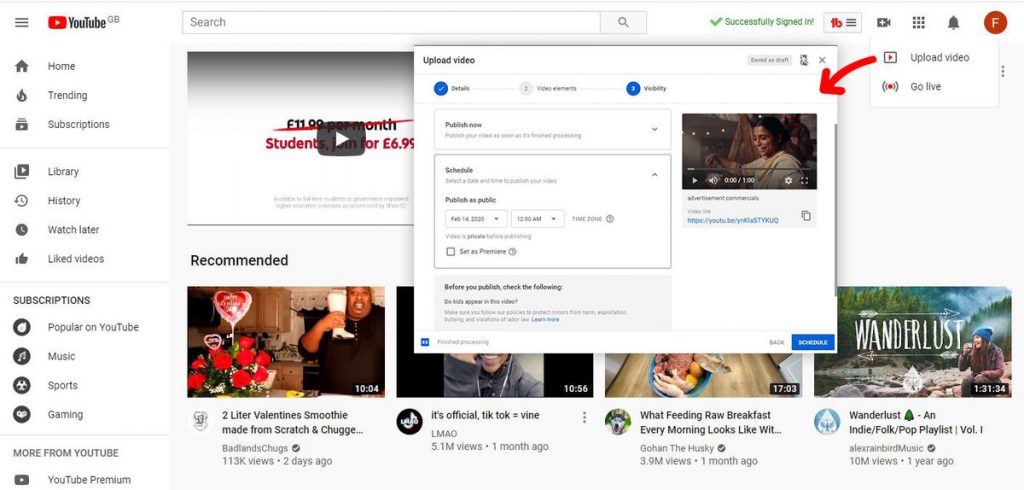 What is the best time to upload to YouTube?
Some of you may be heard of the importance of uploading time on YouTube, which is true.
You should upload to YouTube at that so many people are online. This action may increase your chance to be seen by others, or even in the rending section of YouTube. It is essential to upload YouTube videos at the right time.
Though, you might be wondering where to find the best time to post on YouTube channel. What you need to keep in mind is that it might differ according to your audiences and viewers.
How to find scheduled videos on YouTube?
Finding your schedule posts on YouTube is easy, and you can see all videos on your YouTube channel with a few clicks.
Go to YouTube and click on your Profile
Click on the Videos on the left menu
Find the scheduled videos and their status on the list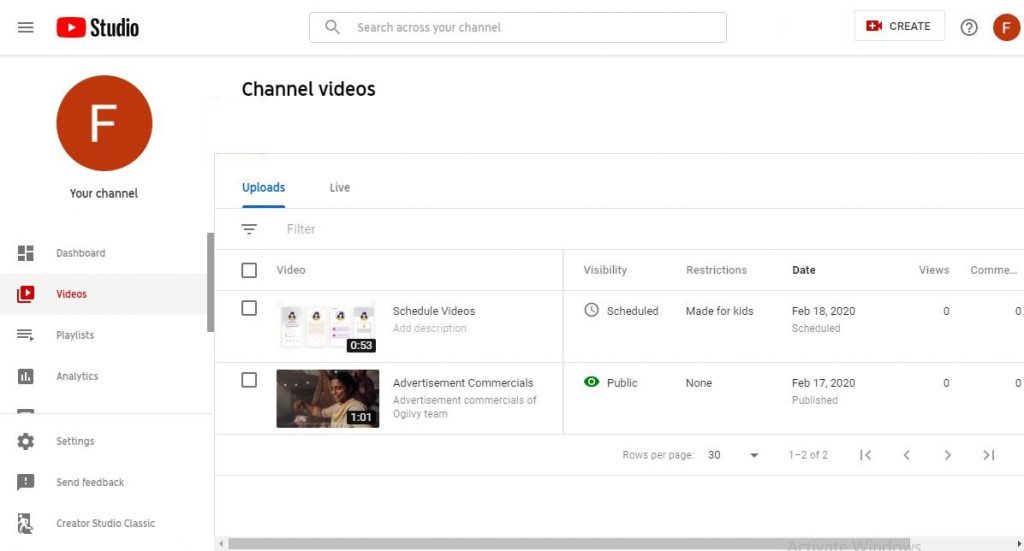 From there, you can change the scheduled date or delete your videos. To remove the scheduled videos on youtube, select the video and click on the three-dots icon. Click on permanently delete, accept the rules, and delete.
Remember that you are not able to undo the deleted videos on youtube. To change the date of scheduling, click on the time, and enter any other you need.
Was this post helpful?
Let us know if you liked the post. That's the only way we can improve.