Instagram is buried into a backlog of questions from typical ones like how to unfollow everyone on Instagram until professional ones like how to make money on and things like that. Probably most Instagram users might look for an answer to such a simple question, as they are amateur in this platform or for the ins and out of it. Honestly, people are keen on gossip stuff or topics, especially on social media, mostly the popular app Instagram. Who unfollowed me on Instagram and why is the most significant issue people face nowadays this ultimate guide provides you with some interesting points about unfollowing people on Instagram.
How to unfollow on Instagram
Lets get started with Follow unfollow topic in this field as it is one of the most trending items on Instagram without fail. These days, not only many marketers with a business Instagram accounts follow this marketing strategy to gain more and more followers but also many Instagrammers with private accounts taking advantage of this for plenty of reasons such as stronger impression or popularity. But the prominent tip is that this act can cause a sudden fall in the count of their followers, and here the matter like How to unfollow on Instagram come to the minds of many other users to do that in return. As unfollow on Instagram is undoubtedly common and simple, It is a piece of cake to do that and even considering that all users might know how to unfollow on Instagram, it is essential to mention the steps.
There are two ways to unfollow someone on Instagram:
From the following tab
Log in to your Instagram account
Go to the Following tab
Search or find the user you want to unfollow
Tap on the following button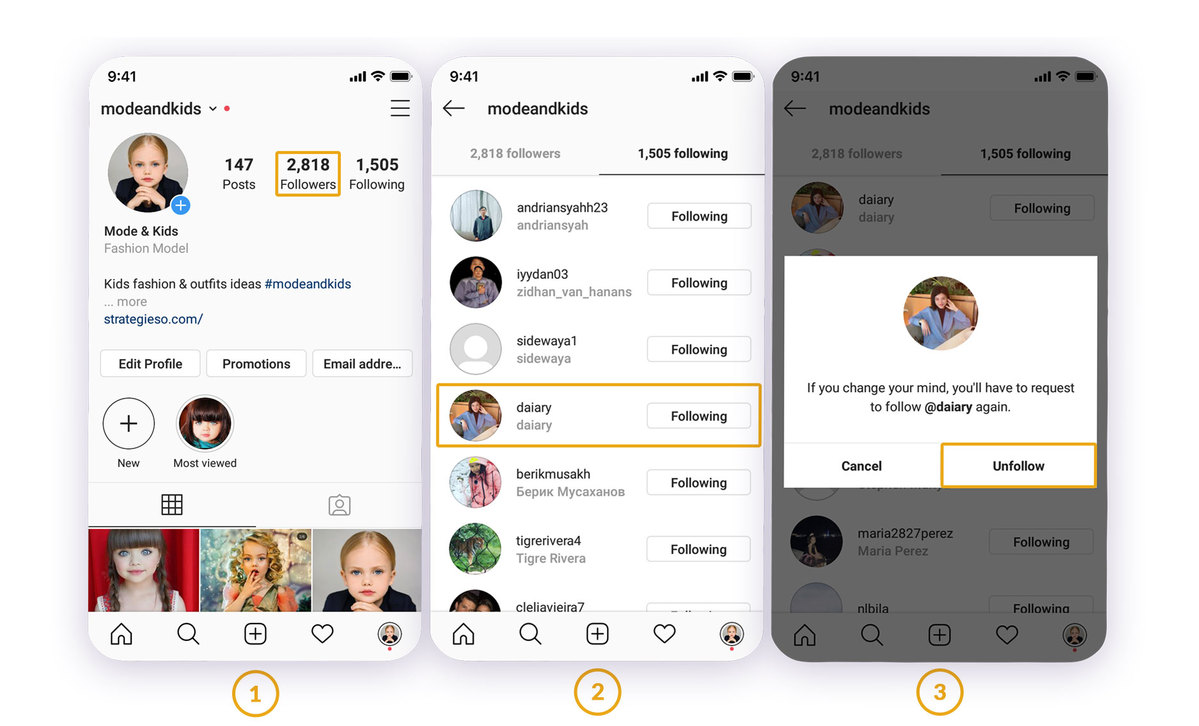 (for the private account) a box appears, Tap the unfollow button
(for the public account) It changes to follow button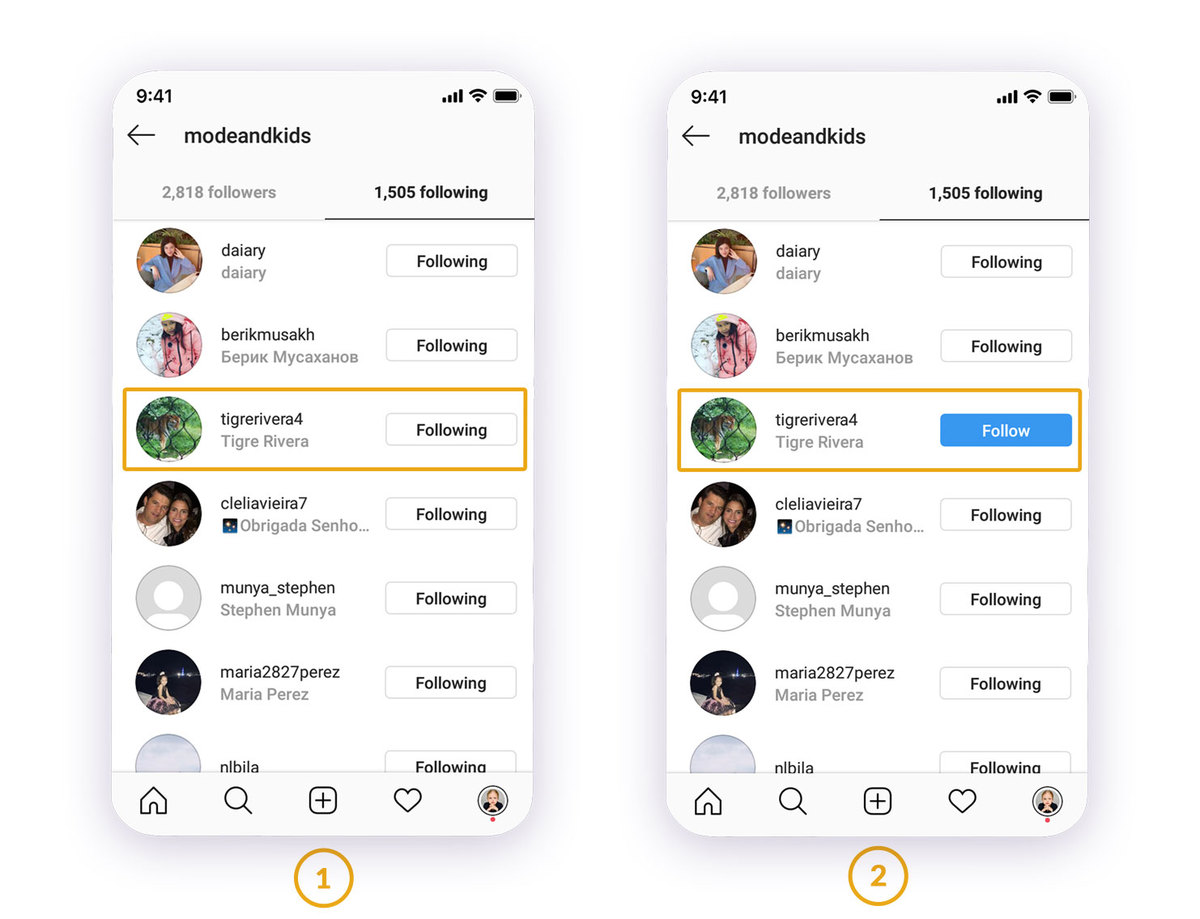 From Instagram profile
Go to the Instagram profile of the person you want to unfollow
Tap on the Following button
Now, Select the unfollow option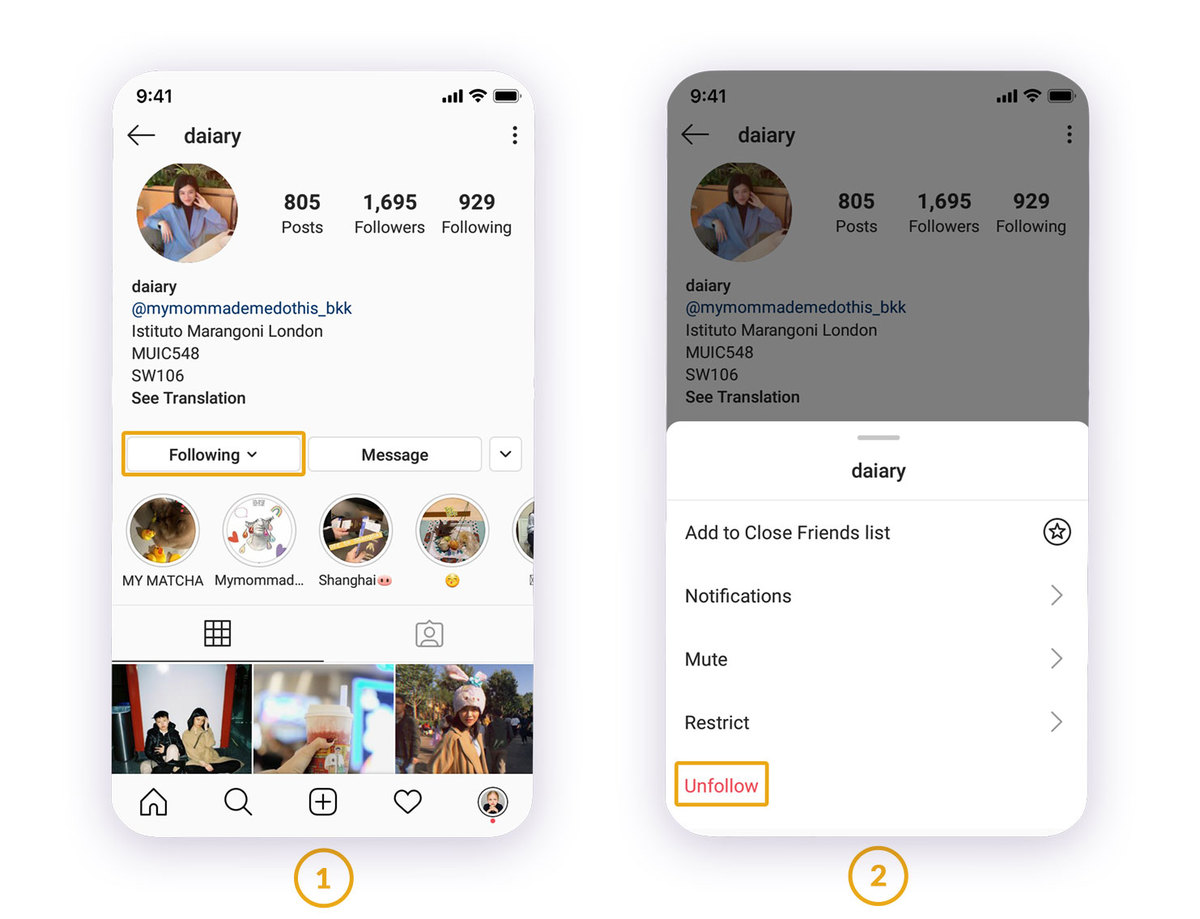 Pay attention in that case; the unfollowed person won't get the notification.
How to unfollow on Instagram without being unfollowed
The fact is that there is no such thing as a free lunch to know how to unfollow people on Instagram without trapping into the being unfollowed immediately. Frankly, What is the solution to unfollow people in a way not to unfollow you right away after you start to unfollow them?
There should be a useful strategy behind this action not to go viral. Let me make it clear that if you unfollow them in the blink of an eye, you take the wrong path to achieve the unfollow strategy. You should start unfollowing people in a different interval and days to seem reasonable and mostly recommend after one-week. In addition, do not forget that first unfollow the ones you follow them earlier than the rest of your following list and then go on with the latest ones.
How to see who unfollows you on Instagram
Whenever users see a decreation in the number of their followers, they become curious to know who unfollowed them on Instagram. As I mentioned before, you won't be notified who unfollowed you on Instagram unless to check out your followers' tab to search for the specific username/name to know who unfollows you.
How many people can you follow/unfollow on Instagram
Instagram is acting well by its limitations to provide a safe platform. Totally, there is no way to unfollow everyone at once. You should do it manually, and it is also good to know that there is a difference between a new Instagram account created recently and a long-time Instagram account.
Based on the handy experiences with new Instagram accounts and researches carried out, Instagram unfollow limit Start with 20 to 50 daily follow/unfollow when the account is acting for a short time, and then little by little, it can change into 100 to 500 actions per day.
How to unfollow everyone who isn't following you on instagram?
Unfollow apps is a kind of third-party apps, available on google play. Mostly honored by Instagram users because it responds to the sens of curiosity of who unfollowed me on Instagram. For using that first, you need to login to the Instagram account via the app. But it is good to know that Instagram does not suggest these kinds of third-party unfollowers apps because it can threaten your Instagram account privacy. So it is important to note that these Instagram unfollow apps can make you aware of which kinds of Instagram unfollowers are unfollowing you, and then you can analyze your Instagram activities and change the Instagram marketing strategies to get the best result in attracting more followers.
How to make someone unfollow you on Instagram
I know that all of you may pop up a reason in your mind to make someone unfollow you on Instagram. Now pay attention to some negative points you would make indeliberately and lead to unfollowing:
Posting too much without any particular aim
Not Having a brand identity
Not following Instagram algorithm
Wanting to get a follow back
Not serving your customers as waiters
Not providing effective customer service such as relying comments, using efficient Instagram marketing tools
Sharing Offensive content
The last word, Instagram unfollowers are increasing every second on this social media apps mostly because they can not get on with the content you provide, try on creating great content, and one more thing that should be considered also is the market niche working on, here It is your accomplishment to gather strategies together and make the followers interest not to become unfollowers.
Was this post helpful?
Let us know if you liked the post. That's the only way we can improve.