Video content has made a big difference in the field of marketing as people take more interest in video content. There are several platforms where you can post video content and the most popular of them are YouTube and TikTok. This has created a dilemma between content creators on which platform to post content. Whether for the marketing purpose of your brand/business or to develop your online presence as an influencer.
Posting video content will boost your growth and your engagement rate will eventually increase. While scrolling users stay longer on video posts than on simple text or photo posts.
YouTube has always been the best platform for video content creators since 2005 but TikTok made its way in 2016 as the name musically. This platform made progress enormously in a short time and just by 2018, it was the most downloaded app in the US. Now the confusion among creators is whether to choose TikTok or YouTube. You cannot make this decision in a matter of minutes as you have to see it from every aspect and matter. Building an audience or monetizing your content all opportunities should be kept in mind. Below is the comparison of both platforms so that you can understand better which platform to choose. We discussed these platforms from the following aspects:
Type of audience on TikTok and YouTube.
Best platform for every type of video creator.
Monetization option for both platforms.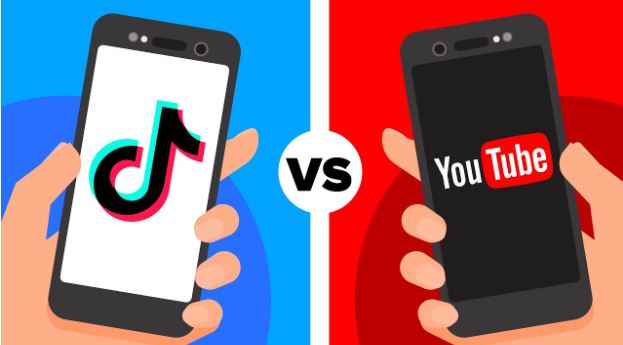 Also Read: "How to Record on Youtube TV"
Introduction to Both Platforms
About TikTok
TikTok was officially launched in 2017 and it was introduced as a social media platform that engages people with short-length videos. Originally this platform just allowed you to make videos on music or lip sync on different types of sounds. When we talk about convenience TikTok is the best of all regarding content production. You can create content by sitting at your place through your phone in just one go and also edit it using different filters, stickers, and emojis or you can even change the background of your video.
You can share videos with your followers and other users to know their suggestions through comments. Most brands and businesses are converting their marketing towards TikTok as it's a great source to interact with younger demographics. Also, you can buy TikTok likes easily from a reliable source and see how the engagement of your posts increases instantly.
TikTok has made massive growth and no one can deny this fact, especially during 2018 and then after that, it made a huge difference. This platform has increased its users thrice in just three years and is still increasing with every passing day. TikTok generated revenue of almost 4.6 billion dollars monthly and one billion active users in a month.
In addition to video creation, TikTok also offers important features including popular music integration, duet content creation, visually appealing filter, effect addition, and live streaming.
About YouTube
The second-most viewed website in the world is YouTube. Less than 20 years ago, this video-sharing website was launched to encourage people to share their home movies. The website quickly attracted 30,000 daily visitors after its debut. The platform was then purchased by search engine giant Google, who transformed it into the YouTube that is used today.
The appeal of YouTube is its huge, free video library. In actuality, 78% of online users utilize it as their major video source. YouTube is an effective platform for businesses to promote their goods because everyone can access material on virtually any topic that interests them. This chance for self-promotion has also contributed to the platform's massive flood of content producers and influencers.
A subscription feed, channel analytics, suggested and trending videos, comments and shares, likes and dislikes, and playlist auto-play are a few of YouTube's most notable features.
YouTube for Business
Despite the explosive growth of several video content platforms, YouTube continues to dominate the market. The revenue-sharing plan offered by the social media site is unrivaled. It paid its creators more than $15 billion last year since it directs 55% of its ad earnings to them. For businesses that invest heavily in their video marketing campaigns, this is a fantastic reward.
This contributes to the increased user-generated YouTube content. The proportion of YouTube channels with at least $10,000 in revenue increased to more than 40% in 2021.
Besides that YouTube has also introduced shorts where you can post short-length videos just like on TikTok. They used the algorithm of TikTok and this has helped them earn 15 billion views daily. With this feature, you can create unique, short, and creative videos, and users will remain engaged by scrolling through the videos continuously. This will automatically increase the engagement rate and watch time.
TikTok for Business
You can find endless opportunities on this effective platform. TikTok is a platform that nearly a quarter of marketers believe is useful for achieving their professional objectives. Simply put, the software offers a goldmine of possibilities. The platform has several developing communities and a recent addition for advertising. Additionally, the ineffectiveness of traditional advertising is pressuring companies to create engaging content that appeals to TikTok's younger audience.
TikTok is coming up with new strategies to assist creator finance without relying on mid-stream adverts as more content creators demand a larger share of the action. Currently, the social media app's primary source of income comes from product adverts connected to the creator's video content. Brands on the platform have looked for substitute revenue streams like brand partnerships in the absence of a more dependable one.
Each user on TikTok receives content that has been hand-picked using a recommendation system. Because it is tailored to the interests of each audience, this content is distinct for each user. On their For You tab, they may view this vast collection of selected information. In the end, this makes it simpler for viewers to discover content and producers who resonate with them.
TikTok's Algorithm
TikTok's algorithm specifically suggests content depending on several factors, including:
Interactions with users, such as TikTok comments they've posted, videos they've liked, and accounts they've followed
With hashtags, noises, captions, and trending topics, the Discover tab's video information signal or content are searchable.
Settings for their devices and accounts, such as language choices, mobile device kinds, and interest categories they chose when they registered for the platform.
YouTube's Algorithm
YouTube uses artificial intelligence, just like TikTok does, to suggest videos that will interest the user. But it wasn't always like that. Clicks and views were the platform's first metrics for recommending videos. YouTube's algorithm altered over time in response to the popularity of clickbait videos, first focusing on watch time, then satisfaction and personalization, and finally arriving at its present metric.
The objective of YouTube right now is to keep users on the site longer. The social media giant uses tailored recommendations based on three criteria to do this:
Personalization or user viewing patterns and behavior.
Performance, which comprises satisfaction and the length of the view.
External factors include competitiveness, interests, and seasonal relevance.
Both of the platforms favor the content of different niches, you can work according to your interest. Especially dance, lipsync, and humorous videos are especially viral on TikTok. While on YouTube you'll mostly find serious, formal, and casual videos.
Difference Between YouTube and TikTok
YouTube was initially introduced in 2005 as a source for posting videos. Now it's a powerhouse for video content where you can build a whole community of loyal followers. This platform is owned by Google and allows you to monetize through ads. Besides getting followers, views are also important and more than 1.7 billion people visit YouTube daily. Some of them even use that content on their websites also.
The structure of the platform is designed in a way that you can post long-form videos also. In 2018 the length of video that you can post on YouTube was 11.7 minutes but as time passes by. Several other features are also introduced including YouTube Music, YouTube Premium, YouTube TV, and much more. YouTube gives you complete freedom to analyze your content using tools. You can also make an in-depth analysis of your channel and make use of several other useful features.
While TikTok is all about short-form content you have to create such videos that are short but engaging. Otherwise, your audience will get bored and will skip your video in no time. creators share their videos with their followers and sometimes they get featured on the For You form where they can attract a more targeted audience.
Most of the videos have catchy content that includes music and deep messages with short-length videos. Just like on YouTube you can find several tools to post your content and then analyze or modify it according to your targeted audience. Similarly, you can use several tools to monetize your content on TikTok and build a stronger community. To do so you can find some tools in TikTok's Creator mode.
Content creators looking to achieve these goals on both of the platforms:
Getting targeted audience
Creating both short-form & long-form videos.
Making a community of loyal followers
Generating views
Monetizing your content
Monetizing Your Content on YouTube vs TikTok
You can earn money both from YouTube and TikTok, produce quality content, monetize your content and earn through ads. You can earn additional income from your profile or channel using different tools.
Monetization on YouTube
To avail monetization features on YouTube you have to follow some strict rules of YouTube and the most important of them is following advert-friendly guidelines. Belo is the guidelines that you need to follow:
Having a Google AdSense account
Earning 1000 subscribers
Having 4000 hours of watch time (last 12 months)
If you have completed all these rules you can easily get access to these below methods of monetization:
Channel Memberships
YouTube Premium
YouTube Shorts Fund
Advertising Revenue
Super Chats, Stickers, & Thanks
Merch Shelf
Monetization on TikTok
You can make use of TikTok monetization with the Creator Next program all you need to have is the application to get access just like on YouTube. Community guidelines of TikTok are a bit easy than YouTube, you have to get these below features:
Age of content creator must be 18 years old
Earn at least 1000 views in the last month
Post 3 times in a day (in the last 30 days)
Followed community guidelines
Gain a minimum number of followers
Gain a minimum number of varies (varies by region)
After completing all these requirements you can have access to the below methods of monetization on TikTok:
TikTok Creator Marketplace
TikTok Creator Fund
Live Gifts
Tip (from viewers)
Maximum Source of Income YouTube vs TikTok
Although to earn money on both platforms creators have to put effort and produce quality content. But making efforts on YouTube to earn money will be fruitful because on TikTok money is divided among different content creators. While on YouTube you can directly earn money through your channel. No doubt getting results on YouTube is not easy but it would be worthwhile. As the results are long-lasting and your loyal community will stay with you for longer.
Number of Monthly Users on Both Platforms
If you are curious to know which platform has more monthly users that is the total number of those users who are currently active. Or the ones who visit your channel or profile and engage with your content. Knowing the stats of YouTube and TikTok will be a good choice to choose YouTube and TikTok. Well, YouTube has more than 2 billion monthly users and TikTok has almost more than 1 billion active users. So if you want to target a larger audience it's better to put your efforts on YouTube, they will benefit you in the long term.
Length of Video on YouTube and TikTok
As already mentioned above YouTube allows you to post long-term videos while on TikTok you have to create short-form videos.
Video length on YouTube →12 hours long
Video length on TikTok →10 minutes (max)
After scrolling through your 'For You' or 'Following' page on TikTok you will analyze that long videos still don't have that much of an engagement rate. People take more interest in short-form videos as they don't take enough time.
So when deciding the platform between TikTok and YouTube, keep the video length in mind. Whether you want to share content with long length or you can portray your message in short-length videos.
Viewer Demographic on Both Platforms
While selecting the preferred platform you have to analyze your targeted audience and which platform they prefer to watch more. Now almost everyone is on the internet and people in the range of 18-50 years old mostly watch YouTube. Here we are talking about the broader audience group as for TikTok mostly females and teens are attracted. This cannot be defined as it depends on the type of content you produce and how much the audience takes interest in it. Your targeted audience can be found on any platform from both of these.
Watch Time on YouTube & TikTok
Watch time is noticed by both YouTube and TikTok, this is the time that users spend watching your content. If your profile or channel has a greater watch time, you have a better engagement rate. Some people think that it's easy to get more watch time on TikTok as there are short-length videos and people will rewatch them. Well, that's not true, on TikTok you have to create eye-catching content from the start. While on YouTube you can post long videos and spend more time with your audience, this will keep them engaged.
Community Building on YouTube & TikTok
The success of your channel or profile is mostly defined by the total audience that mostly engages in your content. Whether a YouTube or TikTok, your channel's success depends upon the community that you build. For each platform, you have to apply different strategies to gain an audience that follows your content and watch it regularly.
There are several ways through which you can interact with your audience and make them your loyal followers. Through comments, live streams, engaging stories, interactive buttons, and more. Although all these tools will not build a stronger community with their help, you can interact with your audience. They will feel connected and will stick to your content and keep coming back to watch it. Keep your content unique and make it authentic.
Whether to Choose TikTok or YouTube? To Create Content and Earn Money
Well if we see it from a monetization point of view then long-term videos can be a great source of monetization with various opportunities. For that YouTube is the way to go because after building your community and following the guidelines you can earn good cash. And if you want to build a younger audience and prefer to create short-length videos, TikTok is for you. After analyzing all the above points you'll find out which platform to choose. Whether you want to earn views or use it for your brand or business.
Was this post helpful?
Let us know if you liked the post. That's the only way we can improve.