The hottest news of the day is out now. Facebook has started merging Facebook and Instagram chats.
From now on, the chats of Facebook messenger and Instagram are merged, and you'll most probably see a pop-up informing you about this update as soon as you open Instagram.
Most of you must have noticed this update's pop-up till now which says "There's a New Way to Message on Instagram" with a list of features including a "new colorful look for your chats," more emoji reactions, swipe-to-reply, and the big one: "chat with friends who use Facebook."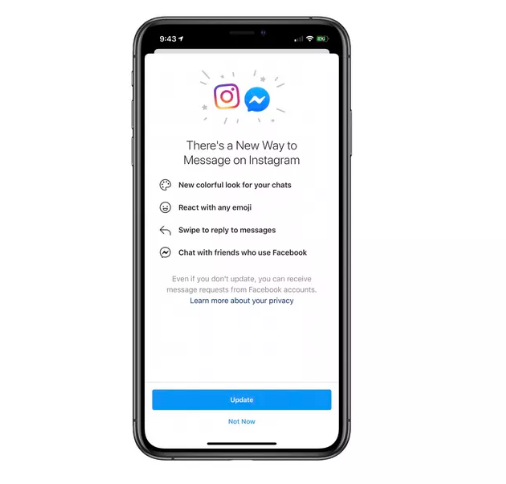 What will change after the merge of Facebook and Instagram chats?
There will surely be a few differences after this new Instagram update, and as soon as your chats are merged. A thing to note is that the update is for both iOS and Android devices.
According to The Verge, once you hit update, the regular DM icon in the top right of Instagram is replaced by the Facebook Messenger logo. Chats on Instagram are indeed more colorful than before, with the sender's messages shifting between blue and purple as you scroll. However, at least for right now, it's still not possible to message Facebook users from Instagram.
But Facebook has made clear its plans to unify the messaging platforms of its hugely popular apps to allow cross-messaging among Messenger, Instagram, and WhatsApp. Facebook was said to be rebuilding the underlying infrastructure so users who were on only one of its apps could connect to others using different Facebook apps. Facebook CEO Mark Zuckerberg has also said he wants the system to be end-to-end encrypted. By integrating its most popular apps, Facebook may be able to compete more directly with Apple's iMessage.
And also, in another step to integrate its family of apps that are being used by 3.14 billion users globally, Facebook has also integrated Messenger rooms with WhatsApp on the Web.
Was this post helpful?
Let us know if you liked the post. That's the only way we can improve.