Facebook dark mode has always been one of the most wanted features of all time. Today Facebook released some good news for all the users out there who have been awaiting this feature for a long time.
Facebook rolled out the Facebook dark mode earlier today on iOS on both iPhone and iPad. Yes, Finally, the popular dark mode is now available. But the unfortunate thing is that not all users have access to the feature.
The dark mode is rolled out to a small percentage of mobile users and is being tested now, so some users are now able to switch to dark mode in the mobile app, and the others need to wait for an unknown time for Facebook to globally roll out the feature to every one of its users and make their old Facebook wish come true.
It is still a wonder why it took Facebook so long to start testing this feature since the Dark mode is already available on many other apps of the Facebook family, including Messenger, Facebook Lite, WhatsApp, and Instagram. The dark mode is even available on Facebook's recently expanded desktop app refresh.
The first picture of how the dark mode looks like on the Facebook app was published on titter by posted by user @NotFridayCraig.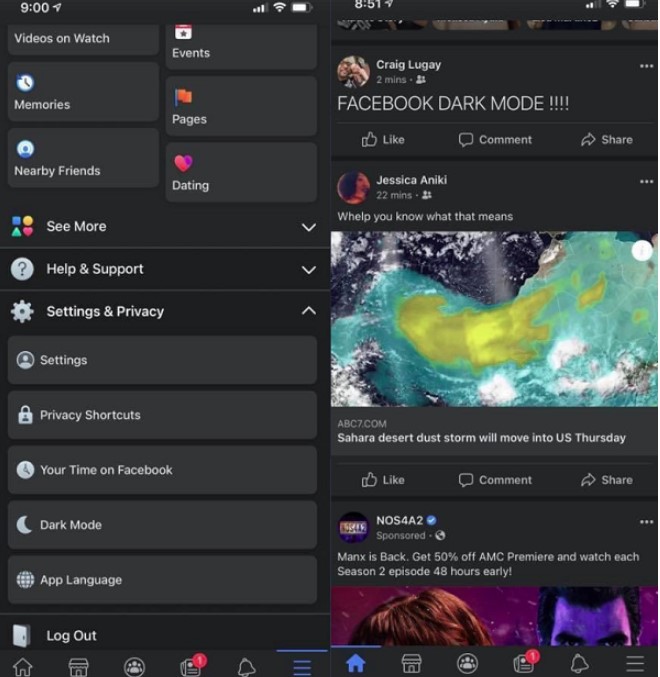 How to enable Facebook dark mode?
In order to see if you are one of those lucky users who got the dark mode on its beta version, all you have to do is to follow the steps below:
Open the Facebook app on either your iPhone or iPad
Tap the Menu icon (both iPhone and iPad)
Find the "settings and privacy" option and tap on it
If you are given the dark mode, it'd then appear as the fourth option after 'Your Time on Facebook' and before 'App Language'
At the end of the day, whether you've been included in the test roll-out of the dark mode or not, it is very good news that after a really long time, all of us are going to have the dark mode on our accounts early in the upcoming future.
Was this post helpful?
Let us know if you liked the post. That's the only way we can improve.